RuPaul's Drag Race best outfits
Drag and fashion have always had a symbiotic relationship, from vogueing — the dance that mimics the editorial poses of models — to the 2019 Met Gala's Camp: Notes on Fashion theme. Drag artists parody the images they see on runways, red carpets and the pages of magazines, and, in turn, designers like Gaultier and Jeremy Scott have been inspired by drag's theatricality and gender-usurping.
Since the dawn of RuPaul's Drag Race 12 years ago, the lines between the art form depicted in the Emmy award-winning show and the fashion industry have continued to blur. Season after season, episode challenges saw the queen hopefuls creating upcycled looks, making over a Coach bag and even re-creating Alexander McQueen's breathtaking SS99 spray painting robots. And post-show the same queens went on to walk for Savage X Fenty and Moschino, star in Prada campaigns and curate collections for Opening Ceremony.  
To celebrate the ever-expanding Drag Race universe and its unparalleled contribution to the fashion cosmos, we've rounded up nine of the most iconic looks within the juggernaut reality show's history thus far.
Gigi Goode in the Black Wedding runway, season 12
"I would never boot one of my looks", Gigi Goode said when i-D asked if there were any looks from her season she retrospectively disliked. It's a fair statement given that Gigi never stepped out on Drag Race's famous blue runway without serving us a stunningly fashion-forward garment. From her sad 80s teen girl at prom look (her personal favourite) to the Heathers and Scooby Doo references, most of her looks were created by the LA queen's own mother. However, it was the minimal yet majestic air of her Black Wedding runway fit, anomalously designed by Dallas Coulter, that made us gasp. Mixing ruched silk with dramatic tulle in an ode to the classic Christian Dior silhouette, this is what Christine Quinn wished she wore to her wedding.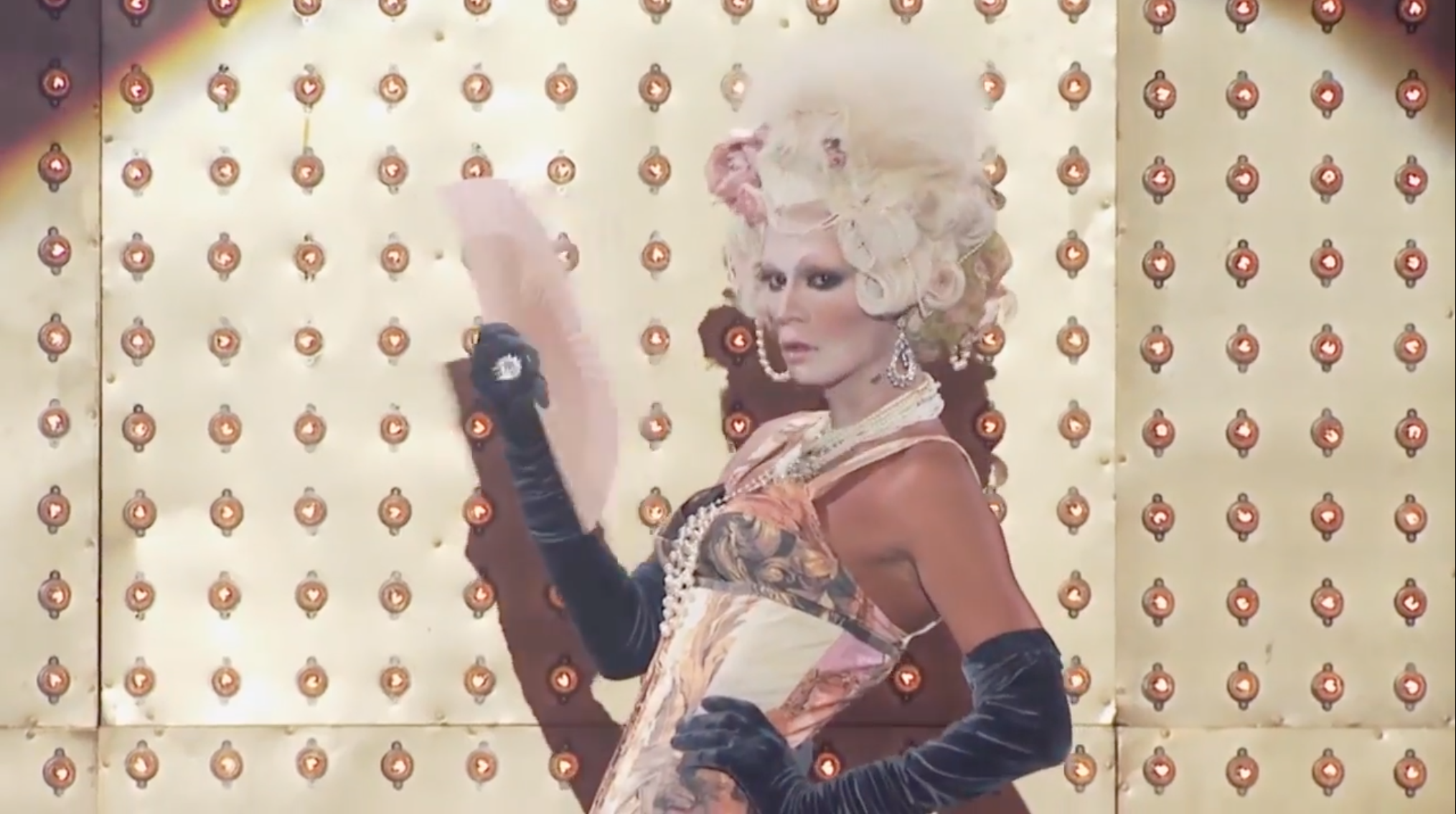 Still from RuPaul's Drag Race
Raja in the Fabulous Drag runway, season 3
The OG Drag Race fashion queen, Raja, became well-known for her high fashion nods and distinct style of drag, which many of her competitors just didn't appreciate back in the ancient days of 2011. Bringing to the show years of experience as a makeup artist for Pamela Anderson, Twiggy and Tyra Banks, Raja created desirable Vivienne Westwood-inspired garments, a pigs blood-doused Carrie look, and, of course, this modern Marie Antoinette fantasy. With pearls draping across her hair and neck alongside sleek velvet gloves, the ensemble, inspired by the Sally Potter adaptation of Virginia Woolf's Orlando, would've been a perfect fit for the 2020 2021(?) Met Gala.
Yvie Oddly in the finale, season 11
The Colorado queen's monstrously beasty concepts on the runway, including a fringe jellyfish moment, cybertronic lion and dinosaur feet heels, made Yvie Oddly an inevitable front runner for the season 11 crown. While the Drag Race finale's lip-sync battle has become somewhat synonymous over the years with gags and unflattering garments to hide reveals (remember this), Yvie was still able to shock without ever letting go of her sartorial reputation. This wonderfully weird rhinestone muscle dress was a prime example, with a mesmerising cracked skull head piece that was true to the freaky queen we know and adore.
Naomi Smalls in the Angelic White runway, All Stars 4
This gender-flipped tribute to Prince paid homage to the late singers' infamous frilly shirt, pompadour hair and electric guitar in the 1984 film Purple Rain. "Erotic City come to life" Naomi said in her signature drawl as she explained the look, "even in heaven I'm a sexy motherfucker". Obviously, no Prince tribute would be fitting without some cheek on show as well. Two seasons of daring runways, male-pattern baldness reveals and slight misses at being in the top culminated in Naomi Smalls — named after both the legendary supermodel and beloved rapper, of course — becoming one of the show's most adored fashion favourites.
Aquaria in the Mermaid Fantasy runway, season 10
The first thing that comes to mind when one says mermaid isn't grime covered skin, webbed fingers and shredded tail fins. But Aquaria's weathered and brooding mer-creature was a fitting take that spoke to the very true problem of capitalism destroying our oceans through oil-spills, pollution and overfishing. The message was felt in the dripping black silicone covering her neck and chest — created by Ssik Kiss (you may recognise their work from many of Lady Gaga's Chromatica era looks) — and the toxic neon blue tears soaking Aquaria's eyeballs. "I'm giving the most lethargic mermaid but in the most editorial way" she narrated. That she did.
Symone in the Trains For Days runway, season 13
The current US season of Drag Race has a lot of fashion-forward queens in its roster. Out-shining them all, however, is LA queen Symone, who's runway looks make it a point to celebrate Black fashion each week. There was the beaded two-piece, accented with further hair beads spelling out her own name, a busty Diana Ross and of course her take on Giselle Bundchen's polaroid dress. On the Trains For Days runway Symone's silky cyan durag extended out, trailing across the floor behind her. Designed by Lizzo-favourite, Marko Monroe, this was the first time a durag had ever hit the Drag Race runway and the judges were definitely impressed.
Violet Chachki at the finale, season 8
Returning to the Orpheum Theatre in downtown LA, where Violet Chachki had been crowned winner of season 7 a year prior, there were high expectations for the look Drag Race's most sartorial queen would serve. Known for their editorial take on fetish subcultures and making Ariana Grande yell "oh my gad", Violet didn't disappoint, wearing the intricate botanically embroidered gown of a forest enchantress, with bugs sprawled over their chest and hauntingly pale, veiny skin. In that moment, we were all the venerative onlooker at the 0:31 mark.
Shea Coulee in the Love The Skin You're In runway, All Stars 5
This trompe l'oeil airbrushed bodysuit, dripping in Swarovski crystals, was an ode to the Renaissance painting, "The Birth of Venus", by Botticelli. Retelling the story of the roman goddess rising from the ocean as a fully-grown adult — however now as a celebration of Black womanhood — Shea appeared nude, other than the gold coil jewellery on her neck and wrists. "Love the Skin You're In is a concept that took a long time for me to come to terms with", the revered All Stars 5 winner and Savage X Fenty model wrote on Instagram. "I've been told that I'm too dark, too nappy, too femme to be considered beautiful. That's why I wanted to fully embrace Black beauty in this runway presentation."
Bimini Bon Boulash in the Preherstoric runway, UK season 2 
The East London queen has stolen our hearts in the current season of Drag Race's UK edition, with her punk rock aesthetic, astute sartorial references and unmatched comedic timing. From an affectionate Princess Julia homage and a sheer lacy victorian seaside gown, to a hilarious impression of Katie Price. It was after the latter though that Bimini took the Preherstoric runway theme — one all others took to mean bones, animal print, messy hair and warpaint — and gave us the mother of all beings: a single-cell organism. As she fluttered her feathery arms, the garment's pleats gently waving, this clear nod to Iris Van Herpen was breath-taking. We lived. Give Bimini Bon Bacteria the crown already.