Mary-Kate and Ashley Olsen's style evolution
The Olsen twins are hands-down the fashion icons of the millennial generation. From Full House to New York Minute and The Row, Mary-Kate and Ashley have kept long-standing fans and fashion enthusiasts entranced for three decades and counting. Against many odds, the duo flipped their child stardom into one of the most aspirational and deeply coveted American fashion labels in recent memory, all by virtue of their diligence, business-savvy ways and, of course, their style.
While Mary-Kate and Ashley have gone through phases of boho-glam, goth, high glamour and minimalism, their sartorial predilections are characterised by a love of experimentation. The Olsen twins have defined and redefined some of the biggest trends of the noughties and 2010s, championing overarching themes (vintage clothing and staple-dressing) as well as garments that are now synonymous with the era (Balenciaga's city bag, leggings, oversized everything).
Here, we parse through decades of iconic outfits — from opulent red carpet looks to covetable street style — to chart Mary-Kate and Ashley Olsen's style evolution, from the 90s through to today.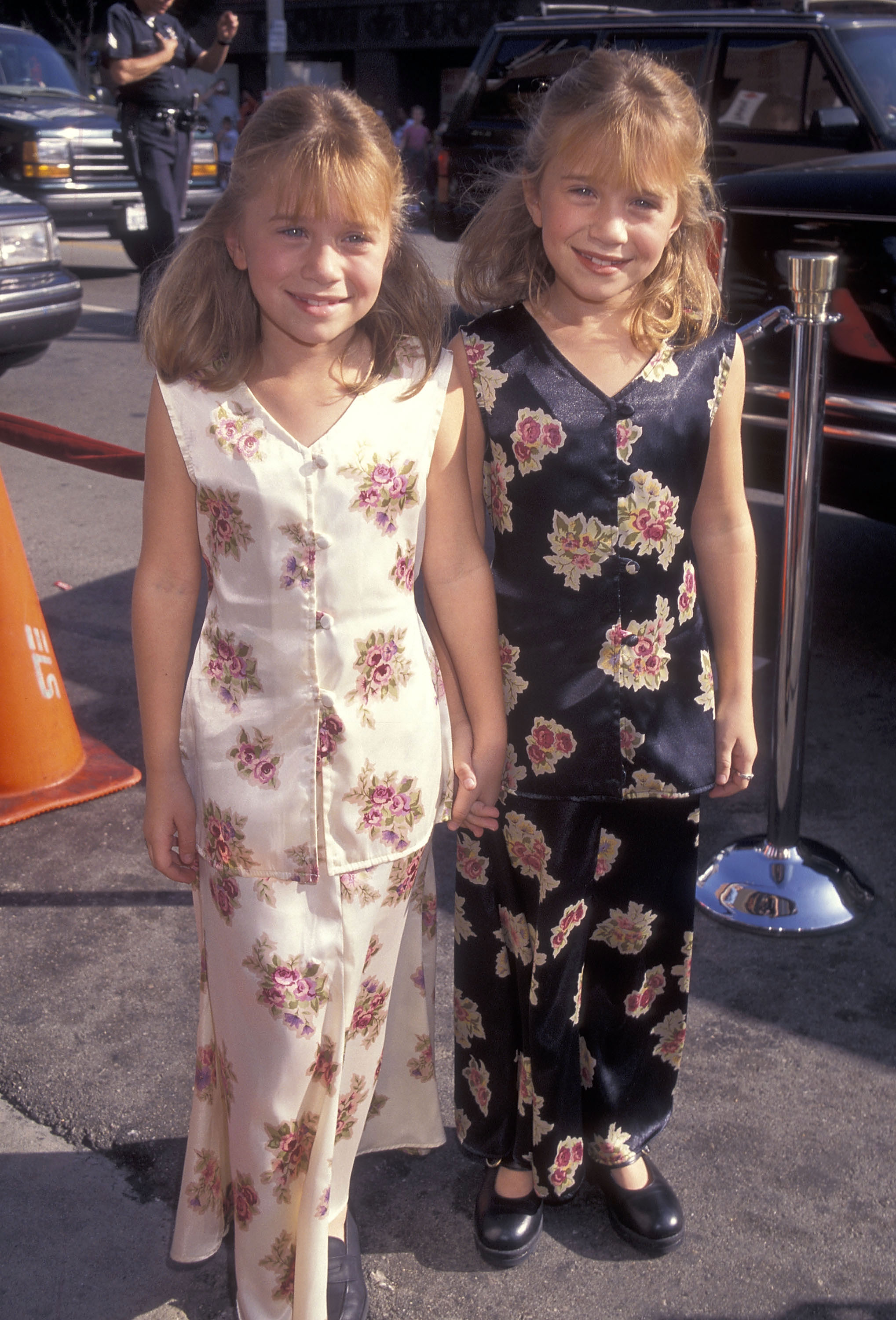 Photo by Ron Galella, Ltd./Ron Galella Collection via Getty Images.
At the It Takes Two premiere, 1995
Before they were the fashion icons and acclaimed designers we know and love, the Olsen twins won our hearts as Michelle Tanner on Full House. Although they're not completely identical, the duo shared the role of Michelle before going on to star side-by-side in TV shows and movies like Two of a Kind and It Takes Two. It goes without saying that being twins was their schtick. As such, the sisters were often styled in twinning outfits, like these super cute, super 90s floral skirt sets worn to the premiere of It Takes Two.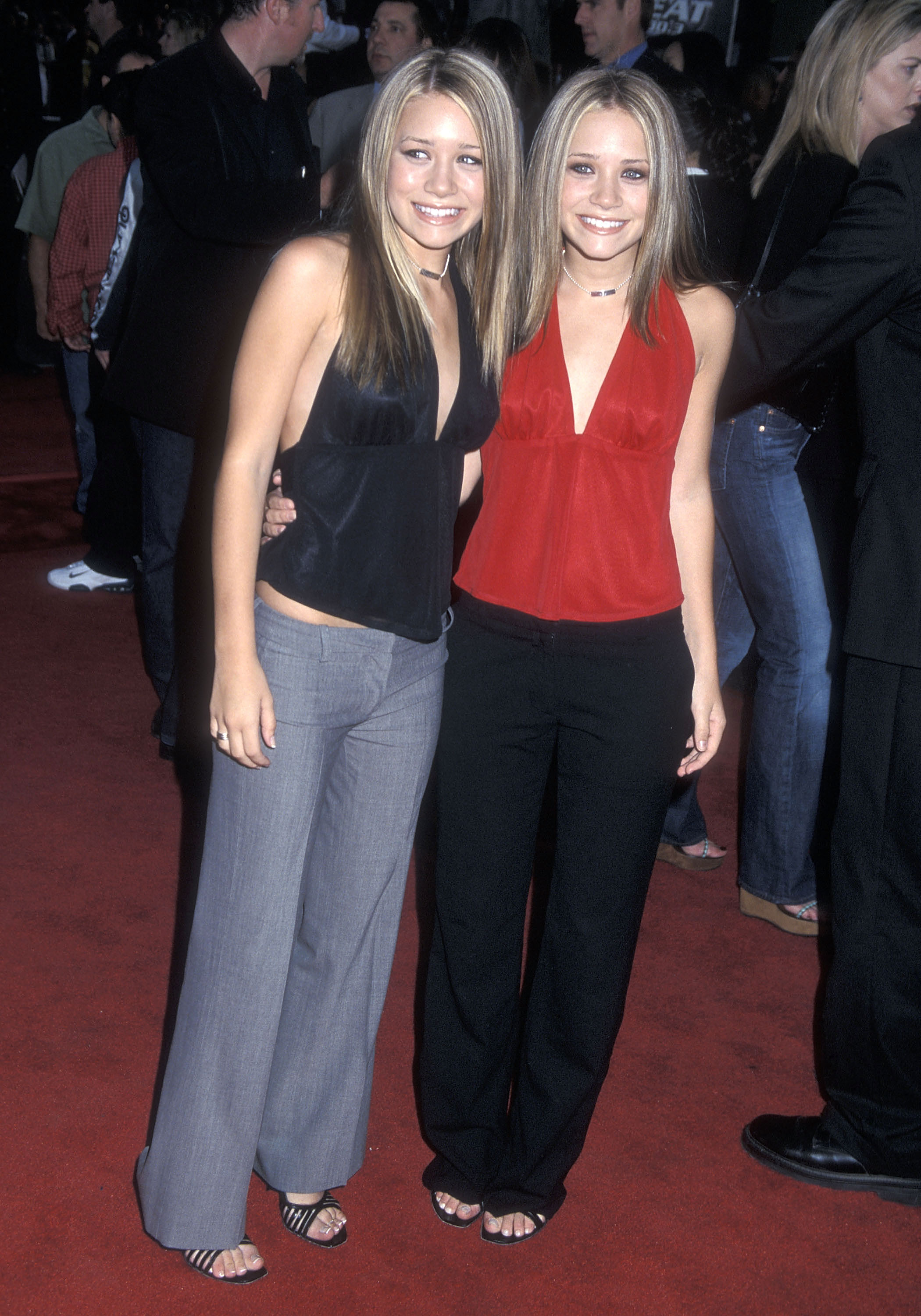 Photo by Ron Galella, Ltd./Ron Galella Collection via Getty Images.
At the Rush Hour premiere, 2001
Due to their nascent on-screen presence, a lot of 90s kids grew up with Mary-Kate and Ashley. The twins were able to leverage their child stardom long into their teens with TV shows (The Adventures of Mary-Kate & Ashley, So Little Time), books, merch and a make-up line. As the Olsen twins reached adolescence in the early 00s, they swapped the fluffy kid-bangs for middle partings and chunky blonde highlights — both age and era-appropriate. They did, however, stick with their signature twinning style. These backless halter tops and low-rise dress pants were spot-on for turn-of-the-millennium teen idols.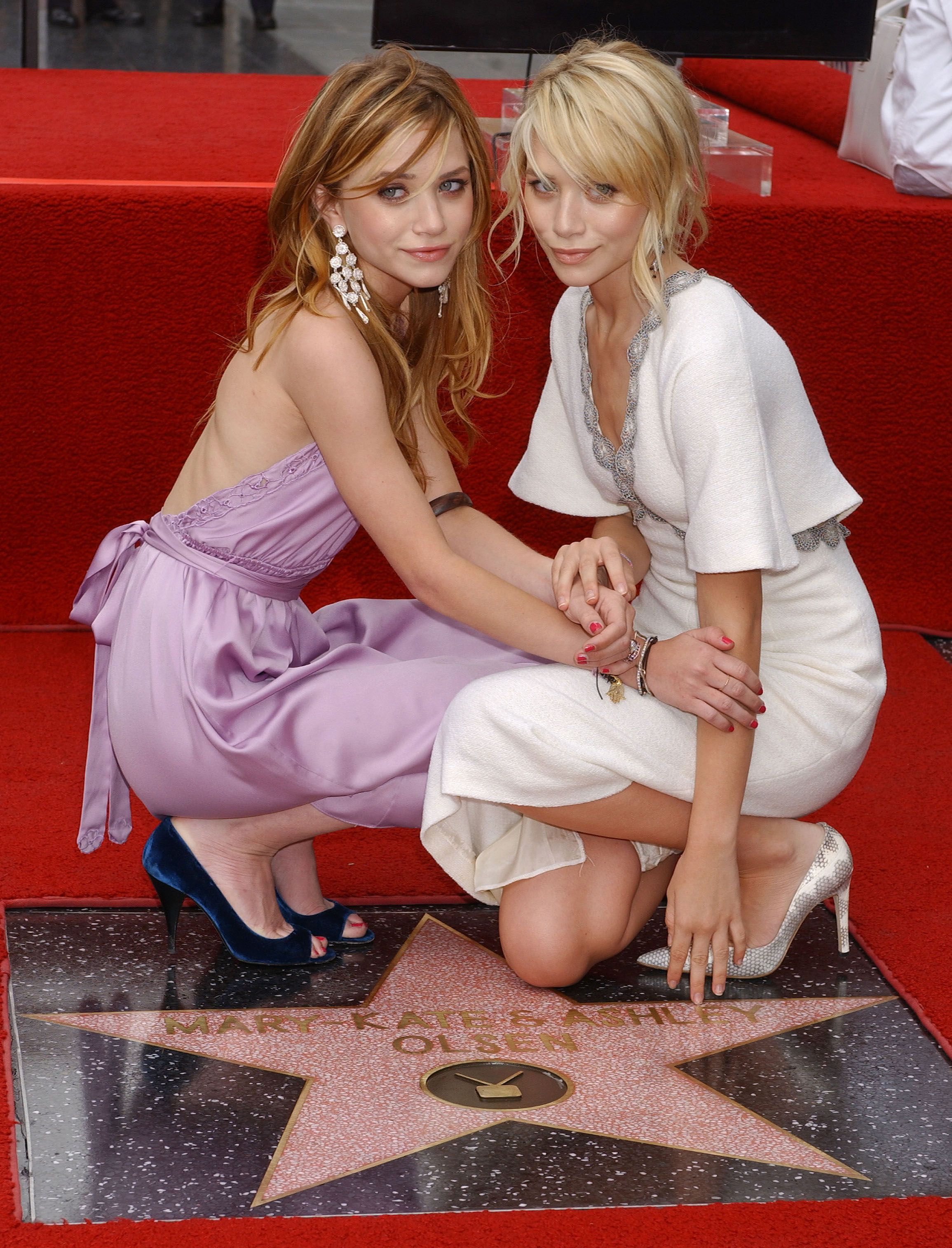 Photo by Gregg DeGuire/WireImage.
Getting their star on the Hollywood Walk of Fame, 2004
In 2004, MKA had just turned 18, become co-presidents of their own production company, Dualstar (which produced their hit movies from Passport to Paris to New York Minute), and were ready to shed their child star images. This, therefore, is when we finally start to see the twins' own, distinctive personal styles emerge. And nowhere was that fact more evident than at the duo's Hollywood Walk of Fame Ceremony. Clearly self-styled, the twins both wore midi dresses of the vintage variety (a characteristic that would become a defining motif of both of their wardrobes), but the similarities stop there. Here, we see Ashley's predilection for classic looks (the subdued palette, the refined empire-waist silhouette) and accessorising in moderation (nude nails, shoes to match her dress). Mary-Kate's more eclectic taste shines through in her slinky lavender halter dress, massive chandelier earrings, clashing navy velvet pumps and hot pink nails.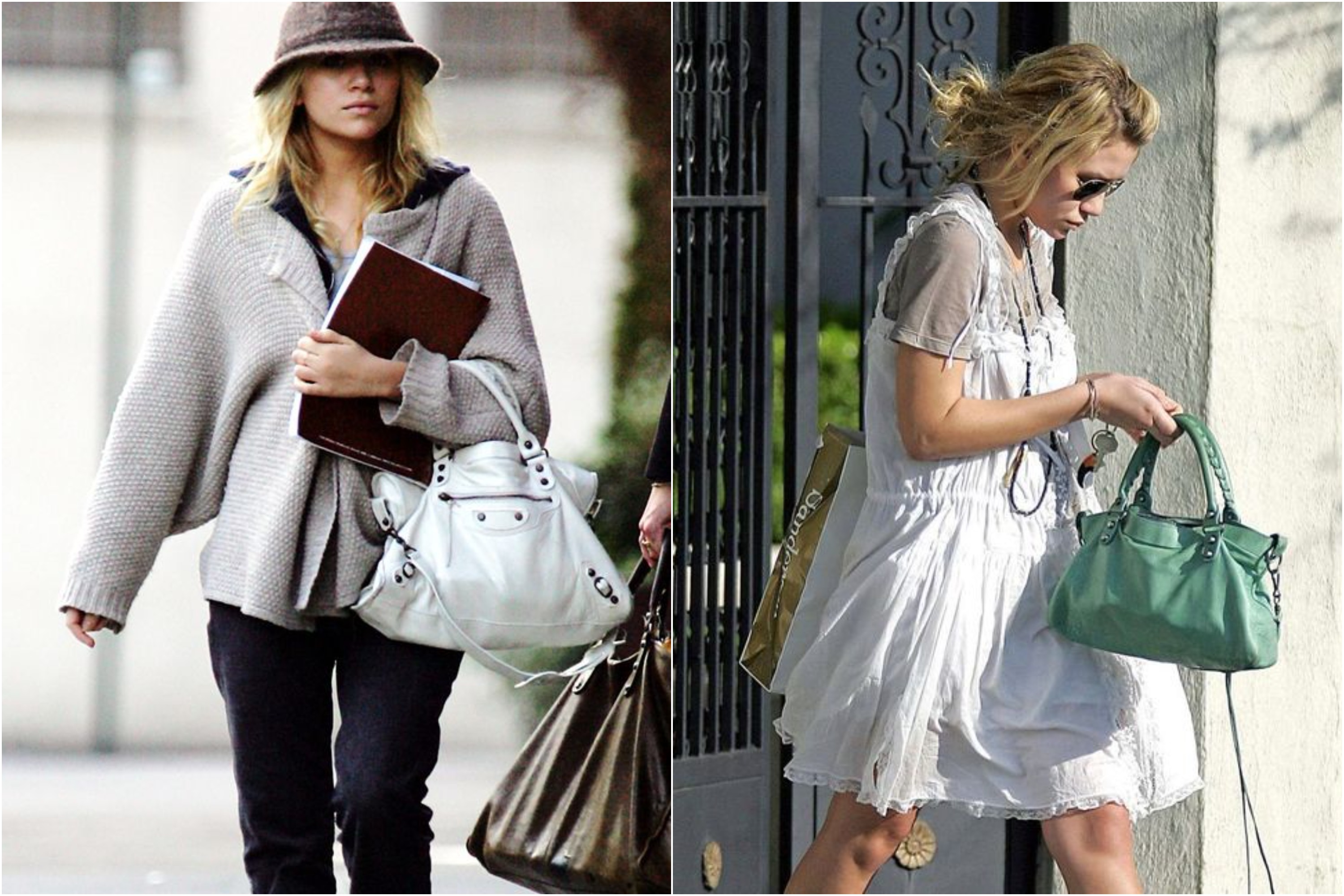 Photos via Pinterest.
Street style at NYU, circa 2005
What's an Olsen style retrospective without a heavy nod to Mary-Kate's NYU-era street style? Her boho-grunge look was a mash-up of athleisure, vintage treasures, and, of course, designer goods; all tied together with an "I do not give a fuck" attitude. By today's street style standards — and compared to the twins' current sidewalk fits — the look is definitely outré. However, Mary-Kate's mid-noughties style was much more than a blip in the evolution of a fashion-icon-in-the-making. It shook Tumblr to its very core and shaped some of the decade's most defining trends. The Alexander McQueen skull scarf? That was MK. She also had a hand in positioning Balenciaga's city bag as one of the first "it" bags. And, while we're at it, a few more of her NYU staples that caught on in a big way include: massive sunglasses, leggings worn under skirts and dresses, extra-long scarves, turquoise jewellery and busted-up jeans.
On the other end of the spectrum, we have Ashley's university-era style. Always more subdued than Mary-Kate, Ashley's style took a more refined, feminine approach to the laidback, ultra-casual look. That's not to say she didn't find ways of integrating some of the same grungy signifiers MK was also sporting. She had her own versions of the city bag — in teal and white. Generous cashmere sweaters took the place of Mary Kate's oversized hoodies and sweats. And instead of silky slips, Ash opted for tiny cotton sundresses.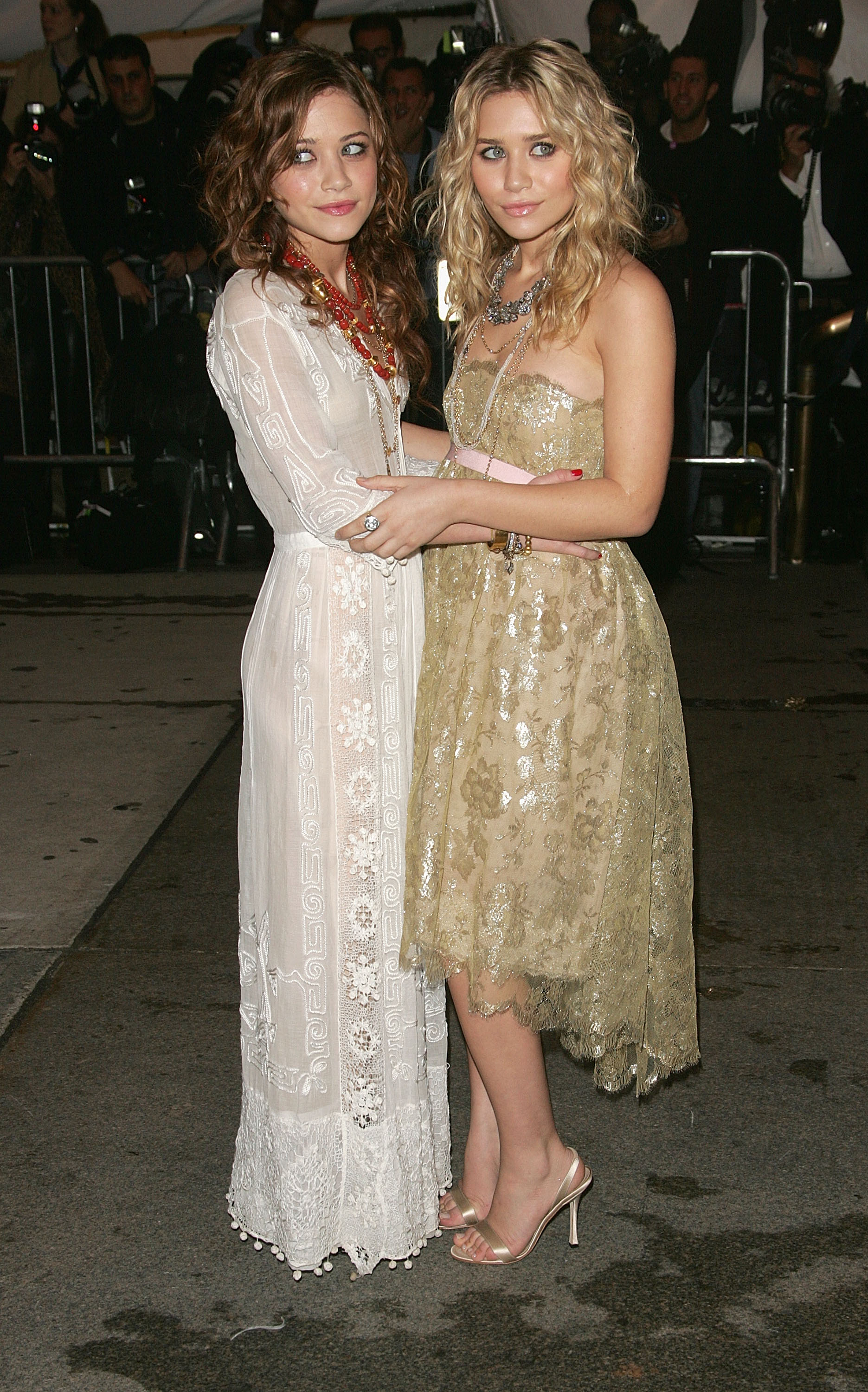 Photo by Peter Kramer/Getty Images.
At the Met Gala, 2005
It wasn't long after Mary-Kate and Ashley settled into their new lives — and new, aspirational looks — in New York City, that the fashion industry took an interest. In 2004, the duo became front row staples at New York Fashion Week, attending Marc Jacobs, Imitation of Christ, Oscar de la Renta and Calvin Klein shows. In 2005, they were invited to their very first Met Gala, held in celebration of the Costume Institute's House of Chanel exhibition. Never ones to stick to a theme however, Ashley wore a gold Oscar de la Renta dress, while Mary-Kate went for a vintage gown. Their chosen looks represent a more refined version of their personal off-duty styles at the time.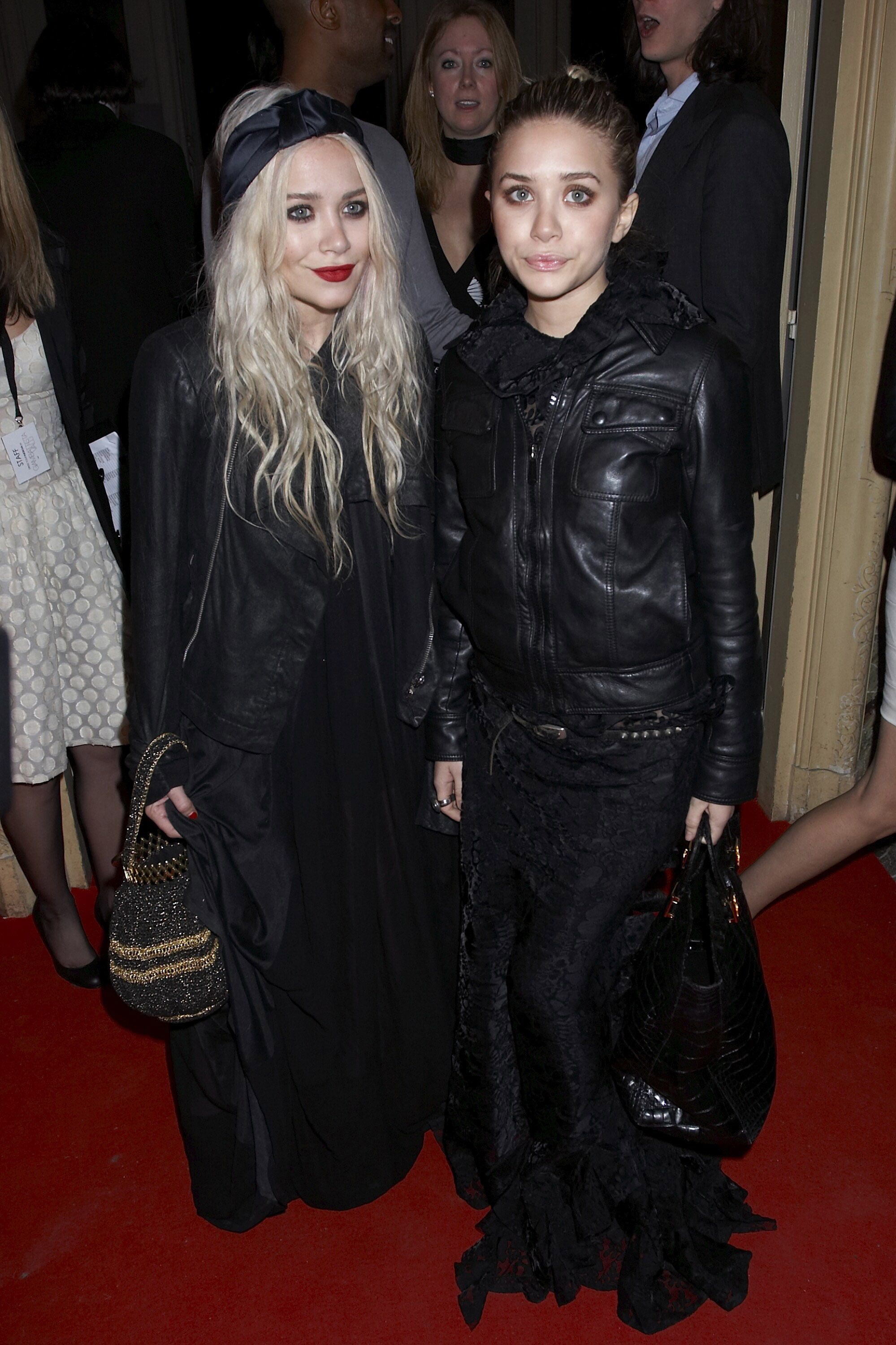 Photo by Lorenzo Santini/WireImage.
At Paris Fashion Week, 2007
Remember when the Olsens went through their goth phase? For a period of time that spanned 2007 and 2008, both of the twins' styles got a little dark: lots of black, loads of leather and tons of drama. In keeping with her more spirited sartorial sensibility, Mary-Kate skewed toward glam-goth, embracing tons of feathers, chiffon gowns, peroxide blonde hair, a crimson lip and heavy black eyeliner. This was the era that she wore those iconic Balenciaga harness boots — usually with black tights, and micro-shorts concealed by an oversized shirt — into the ground. Not quite in the opposite direction, Ashley leaned towards a romantic-gothic look with lots of lace and Victorian details on the red carpet, and ample leather jackets off-duty.
Shopping in Paris, 2010
Mary-Kate and Ashley did not let the sartorial momentum of their brief fling with goth subside. The middle of 2008 saw the Olsens dive head-first into high glamour. We're talking platform stilettos, power shoulders and razor-sharp silhouettes, more feathers and (unfortunately) fur, ruffled parasols, red carpet Birkins, tiny decorative hats and more. This era reached its zenith in 2010, while the twins were in Paris for fashion week. Here, shopping on the Champs Elysées, the duo deliver a couple of super-glamorous, high-drama looks.
On a smoke break, 2014
Within the last decade, Mary-Kate and Ashley have distanced themselves somewhat from the public eye, choosing instead to devote their time, energy, and focus to their acclaimed label The Row. As such, the sisters' off-duty style has become easier, less intentional. Paparazzi-peeks into their street style are few and far-between, which makes it all the more aspirational. When the duo is snapped — so frequently on smoke breaks that there is literally an Instagram account dedicated to the phenomenon — they give us a masterclass in layering, featuring gorgeous coats worn with sneakers, loafers and brogues. Think old Céline, The Row women's and menswear, big sweaters and even bigger shirts.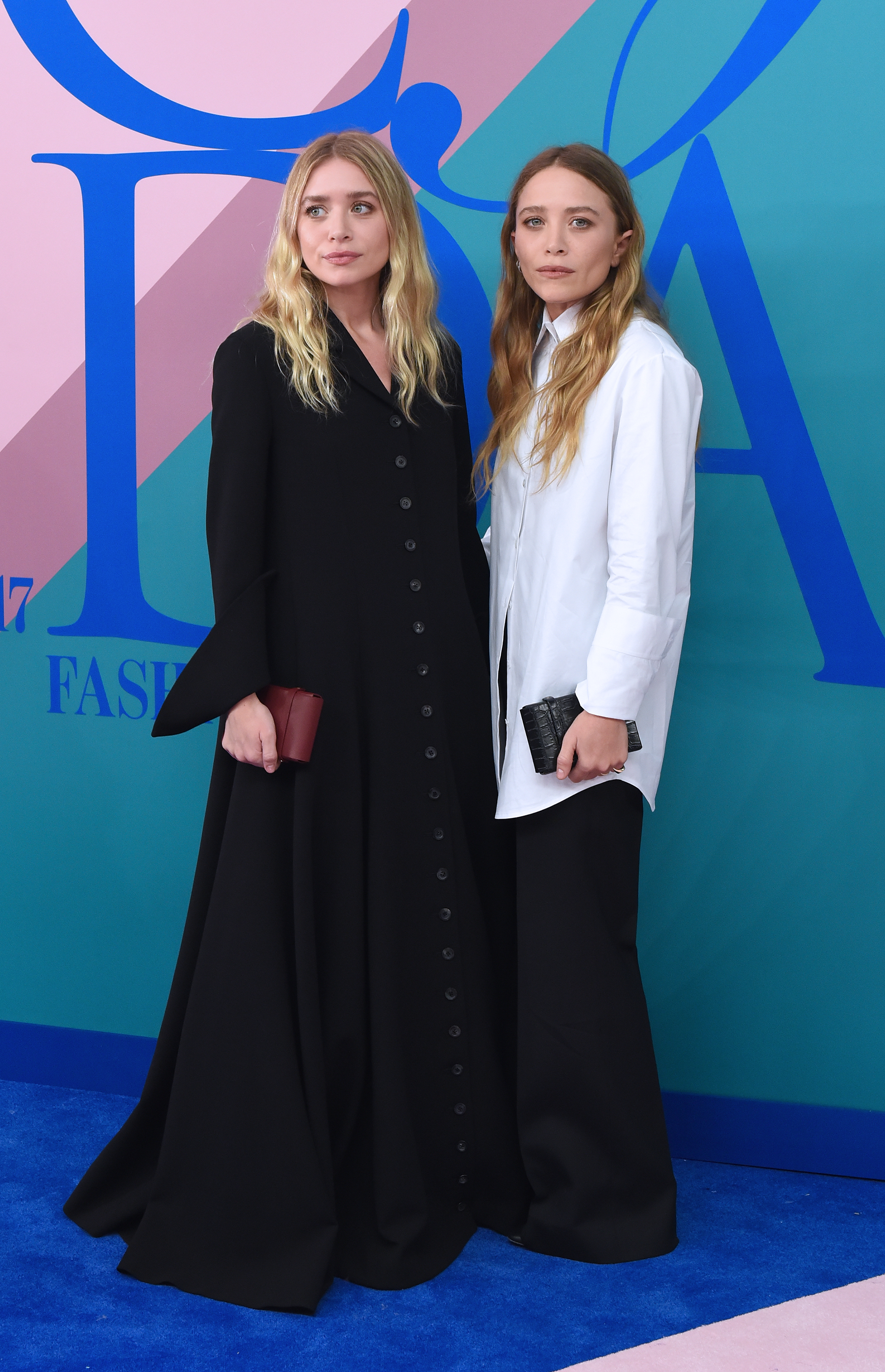 Photo by Presley Ann/Patrick McMullan via Getty Images.
At the CFDA Awards, 2017
When the Olsens do make a public appearance — usually only a couple times a year — their red-carpet looks are as pared-back as their off-duty style. They typically go for impeccable suiting, shirting and simple but billowing gowns, all in tones of monochrome. Here, at the CFDA Awards, Mary-Kate and Ashley wear a couple of elegant looks from their own label.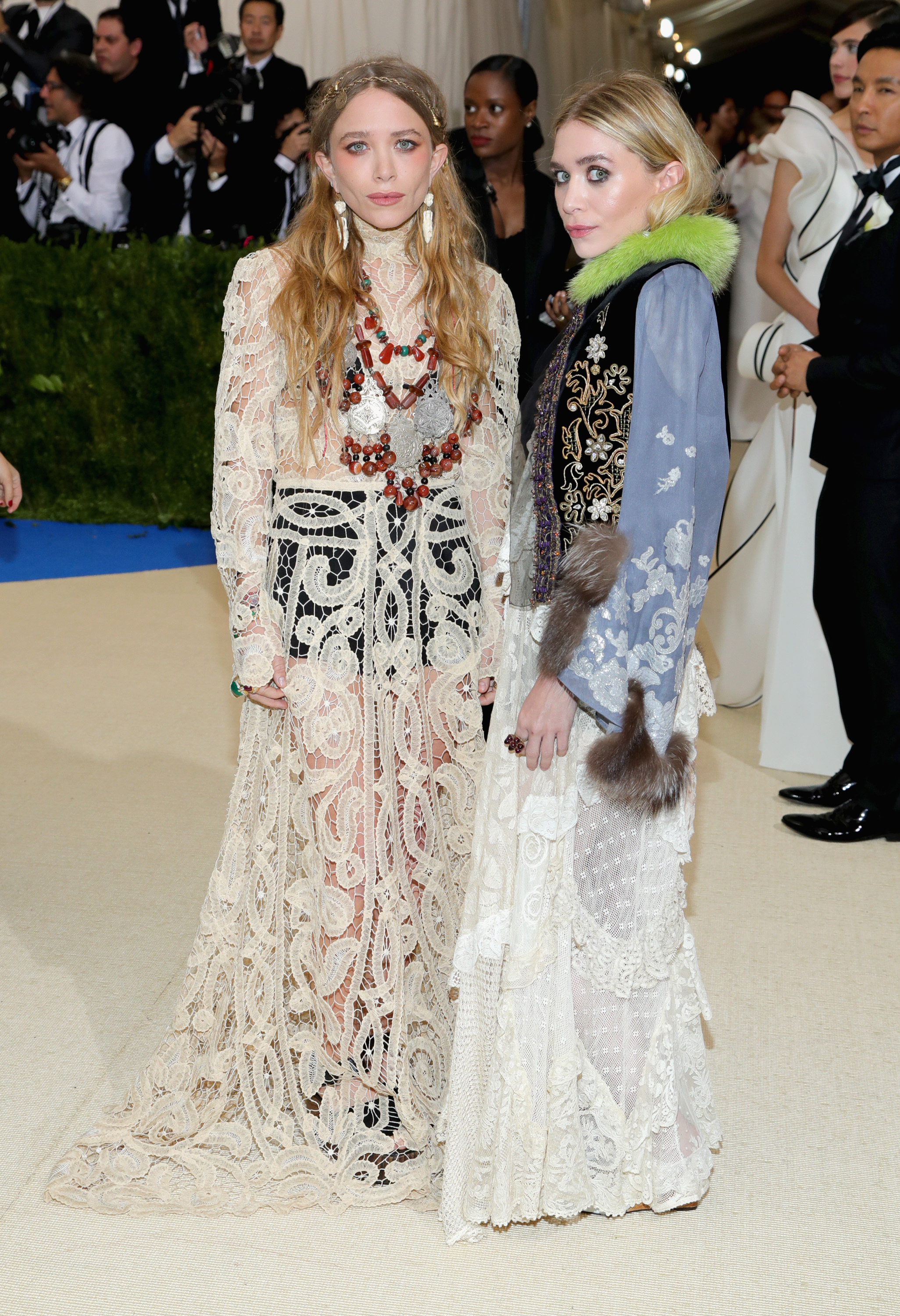 Photo by Neilson Barnard/Getty Images.
At the Met Gala, 2017
At this point, the Olsens are Met Gala royalty. Since their first invitation in 2005, the duo have attended the iconic fashion industry event a near-record 14 times. While these days the twins typically opt for simple red carpet looks, they continue to make an exception for the Met Gala. Notorious for never following the theme, the event gives Mary-Kate and Ashley the chance to showcase their immense vintage collection — the collectors that they are. Here, for the 2017 Comme des Garçons-themed ball, the sisters wear their most Olsen-esque Gala outfits to date: layers of sheer lace, beaded jewels, fur and silk that fully embody their experimental style.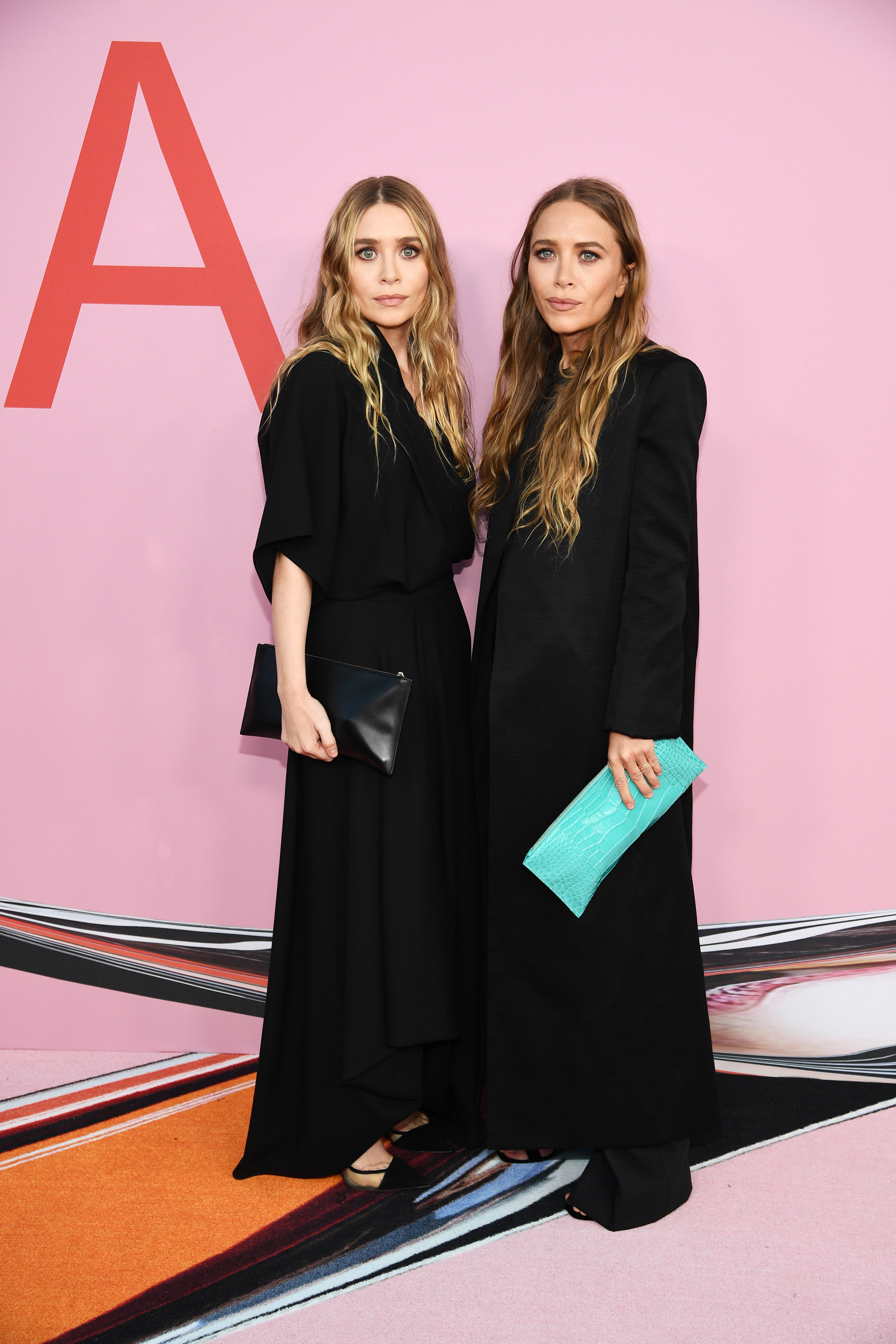 Photo by Neilson Barnard/Getty Images.
At the CFDA Awards, 2019
The Olsen twins' fashion star continues to rise to this day, with The Row having been nominated for a CFDA Award — the American fashion industry's highest accolade — every year since 2014. In the past three years, they've taken home five awards, including Womenswear Designer of the Year and Accessories Designer of the Year. Here, the duo attend the ceremony where they scooped up the former prize. Once again, they're wearing a pair of near-monastic looks by — who else? — The Row. Iconic.