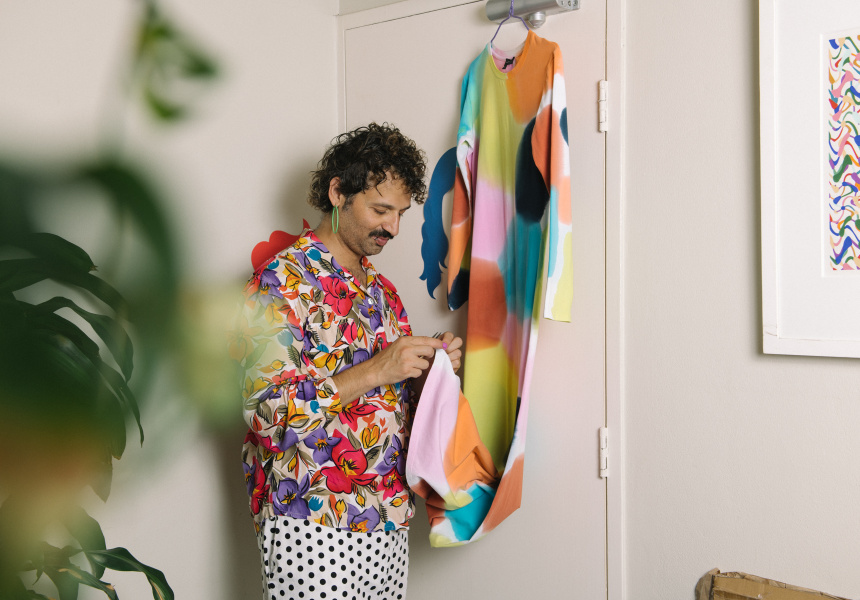 Fashion Designer Gary Bigeni on Barbie Dolls, Dressing Melissa Leong and Playing by His Own Rules
When Gary Bigeni opens the door to his apartment in Dulwich Hill, in Sydney's inner west, he's wearing a floral patterned shirt, neon earrings, mauve nail polish and polka dot pants. His personal style has always been bold and colourful, but what's interesting is that until recently his eponymous fashion label was more reserved, pared back and aimed at women only.
"A lot of people had the same aesthetics as their brand," says Bigeni. "I wanted it to be about the clothing and not about me for the first stages, but I was showing in Paris about eight years ago and a buyer said, 'I like what you do but where do you sit within this collection?' and that made me think. The minute I made my collection more about my personal style and my personal touch, it became a lot easier and a lot more fun."
Bigeni grew up in western Sydney suburb Blacktown with Maltese parents. He says he was obsessed with fashion and clothing from a young age – but he kept his joy of playing dress-ups secret. "I was always stealing Barbies from neighbours and cousins and making outfits for them, changing their hair colours, dressing them up – it was a secret thing, no one knew I was doing it," he tells Broadsheet. "But I've always been like, 'this is what I want to do'."
His mum bought him a sewing machine when he was 11 – "a little Janome" – which he used to create outfits for his toys. Years later, after graduating from East Sydney TAFE in 2002, his fashion career took off and his designs were selected for a graduate showcase at Sydney Fashion Week. Suddenly, Bigeni had a women's fashion label and he was designing seasonal collections, travelling around the world and navigating packaging and pricing with wholesalers.
"I always thought I was going to do a streetwear collection," he says. Instead, Bigeni created minimalist, relaxed silhouettes working with a palette of soft neutrals. Then, in 2017, Bigeni was diagnosed with stage four non-Hodgkin's lymphoma. "The start of my twenties to my late thirties was all about being a fashion designer, and that cycle [of creating new clothes each season], but I experienced being sick and now I'm better, I understand that we don't all have to have one banner. You can do multiple things."
Today, aged 41, Bigeni divides his time between designing and hand painting clothing with his job as a youth worker. He custom makes every order in his mother's backyard in western Sydney, and he's loving being in complete control of his brand.
"I want to play my own game, by my own rules," says Bigeni. "I'm a small, independent brand, so I have to think realistically about my options. Cutting out that wholesale side of the business means customers come direct to me. I like that engagement with people."
It gives the designer more time to make considered decisions too. "Each piece is made individually and I want to cut back on wastage. I cast the models [on my website] and think about what sizes I want to make the samples in, and who I want featured in the lookbook. I never had the opportunity to do that before. I want to show diversity on my website and, as a designer, I want to show that you can be a size 14 or 16 and look amazing in colour."
One of the designer's most popular items is a dress named for friend Melissa Leong, who wore the long-sleeved tie-dye outfit on Masterchef. "I was eating cracker biscuits thinking, 'how am I going to survive?' then suddenly all these people were paying upfront for the dress," he says.
"She's amazing. When she got approached to do Masterchef, she wanted to support her friends who're designers. I sent a few things and I didn't have a TV, but I got all these messages from customers. That's how [the collection has] evolved over time."
If Bigeni could dress anyone, he says it'd be Lizzo. "I love her energy. I think she'd be fun. I'd do a custom hand-painted tracksuit for her to wear around the house or something. I get really excited when people have body confidence, whether it's in a red lip or a form-fitting outfit.
"When I walk out the front door I want to feel confident. I'm not worrying about what other people are thinking about my outfit. I get a buzz from doing it for myself."
In addition to his role as a youth worker, and teaching sewing and upcycling through charities and at schools, Bigeni was 2021's ambassador for Loud Shirt Day, an annual event that raises funds and awareness for deaf kids.
"I was born hearing-impaired, and I've worn a hearing aid since I was three. I've always been really passionate about raising awareness for children with a hearing disability and their families. It's not cheap, taking children in for hearing tests or hearing aids."
Bigeni's studio space is also his home. It's not cluttered, or minimalistic. There's a polka dot painting by Matthew Johnson, with whom he collaborated for a collection a few years ago. The designer appears at ease and he tells us he's excited to build on the brand he's scaled back during lockdown. "I'd like to have my own space. I'd like to run workshops as well … I want to create linen towels and napkins and slowly grow it from there. Hand-painted silks could be quite beautiful too."
His main focus for now is creating clothing for kids and adults in gender-neutral cuts. "I think it's important that we're confident in who we are. I feel passionate about teenagers and kids growing up into who they are, rather than trying to fit into [something they're not]. I think that's really important."
Read more in our Studio Visits series.