Refugee-focused fashion company garners national attention | Edina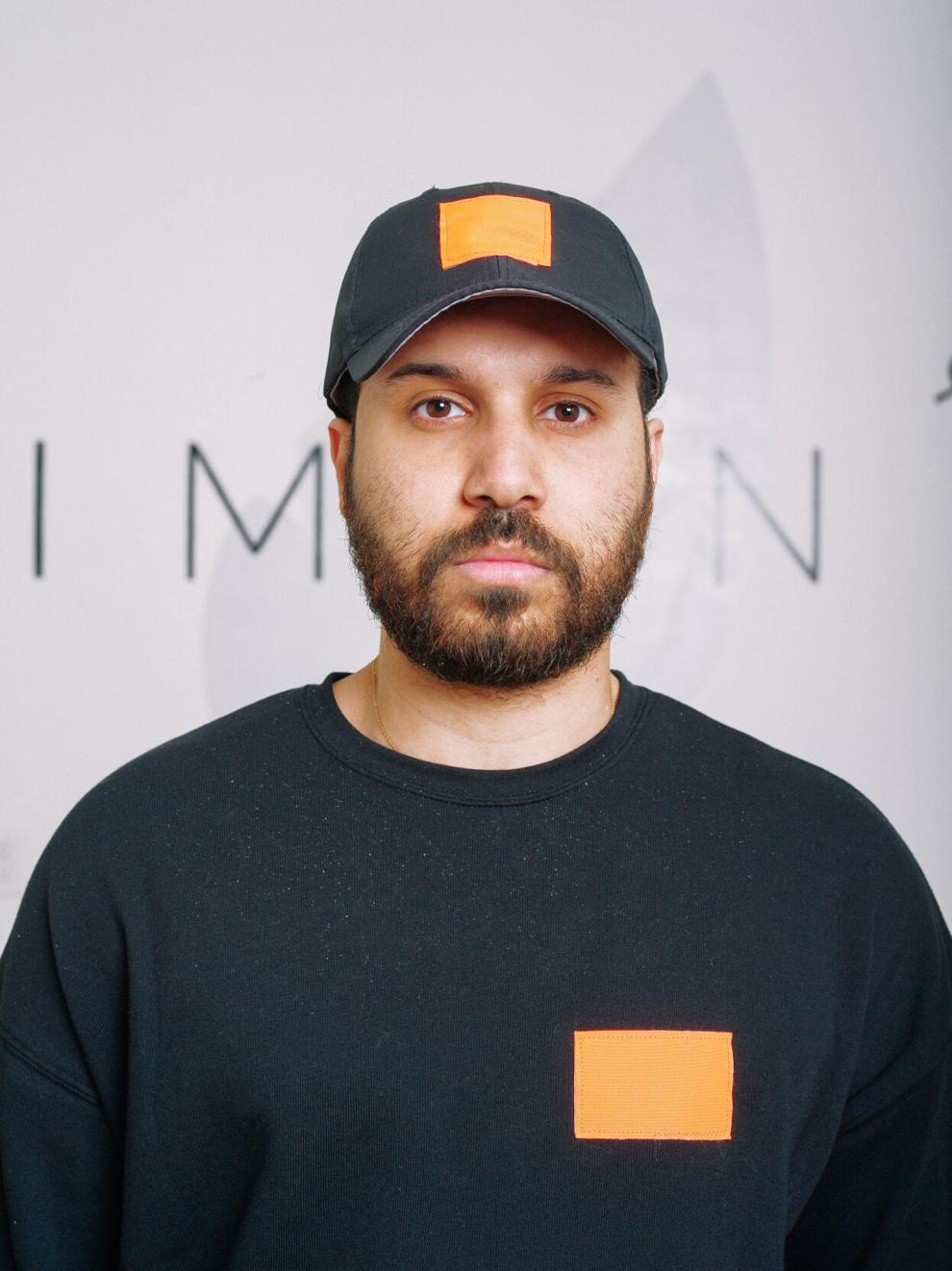 Having a knack for style seems to come naturally to Mohamed Malim. So, he took that skill and used it to create something bigger than himself – a fashion company focused on bringing awareness to the refugee humanitarian crisis.
While studying business at the University of St. Thomas, Malim, an Edina High School alum, realized he could combine his skills in business and passion for fashion into something that was meaningful to him and the greater community. He created Epimonia, a clothing company that places refugees at the forefront of its mission.
And Malim knows the experience of a refugee firsthand. In the late 1990s, his family fled Somalia due to war and violence in the region and settled in a refugee camp in Kenya, where he was born. He and his family moved to the U.S. in 1999, when Malim was 3 years old.
"I want to give back to my community," Malim said. "I've been using my passion by selling products, apparel, and to start a conversation of what's going on."
While at St. Thomas, Malim entered the schools' Fowler Business Concept Challenge in late 2017. For this, he created the idea for Epimonia and ended up placing in the top 10, Malim said. That's when he decided to turn the concept into reality.
"(The competition) motivated me and inspired me to actually pursue my dream and start the business," said Malim, who graduated from EHS in 2014.
His uncle, Omar Munie, who is a fashion designer based in the Netherlands, provided guidance in getting the business started, Malim said. "My uncle inspired me to start my fashion company, because thankfully, I had someone who was a fashion designer in the family," he said.
Malim said part of the idea for his brand was prompted by his sense that pervasive negative attitudes toward refugees were making them feel unwelcome in society. The mission of Malim's fashion brand is to combat negative rhetoric about refugees, he said. Epimonia's garments include orange patches and pieces of life jackets that were worn by refugees on the Mediterranean Sea, later collected upon their arrival in Greece. The patch-adorned garments include crewnecks, tees and bracelets.
"The whole idea behind this business was to combat the xenophobia that was going on around the country," Malim said.
He added, "The idea of using the life jackets is to create awareness of what's going on overseas and at the same time, (using) that as a symbolic gesture."
According to the United Nations Refugee Agency's most recent data, about 80 million people worldwide were living under forced displacement as of mid-2020. Of this total, 26.3 million were designated as refugees.
Malim employs refugees to create the garments at his studio in Northeast Minneapolis, he said. Since 2018, the company has also donated $45,000 to refugee causes, according to Epimonia's website.
Malim's work has received widespread recognition. In addition to being highlighted in national publications, Epimonia was also featured at New York Fashion Week earlier this year.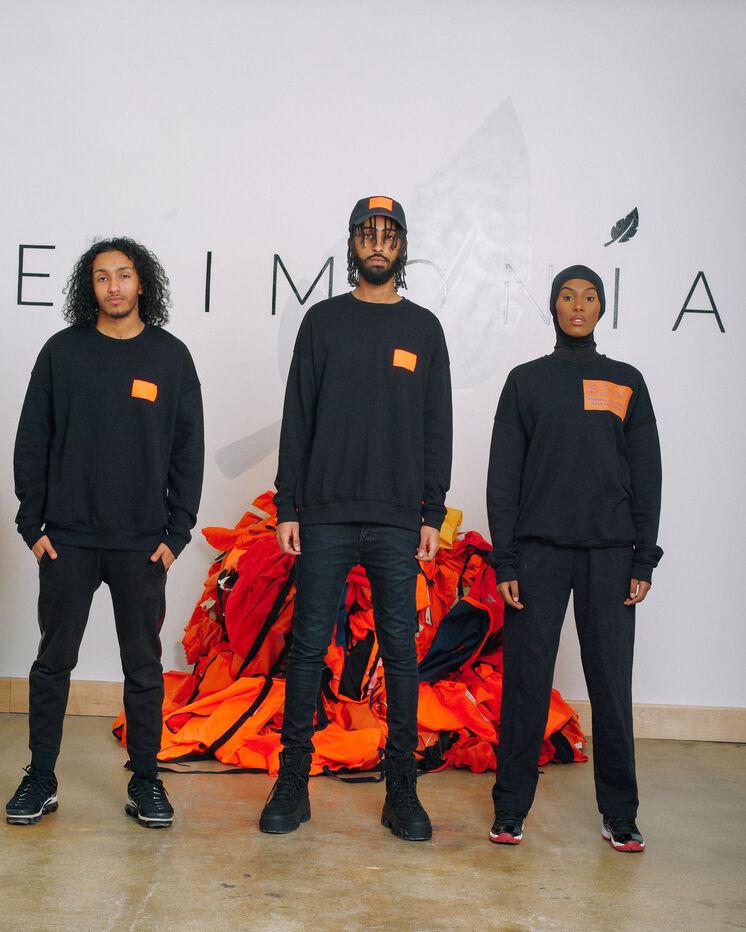 This spring's New York Fashion Week was held online with virtual shows, exclusive item drops and talks among fashion experts. Instead of the typical runway show, Fashion Week included pre-recorded videos from designers that were streamed at certain times throughout the event, Feb. 14-18.
Epimonia made its debut on the metaphorical New York Fashion Week stage on the last day of the event, at 2:30 p.m. Malim said he hosted a small watch-party with friends for the event.
The video featured Malim and models in Epimonia clothing, posing for a camera with a pile of life jackets behind them.
"(It) was an amazing platform to bring visibility of the refugee crisis," he said. "Having that opportunity was huge for our team and I."
But in the recent past, this sort of spotlight hasn't always been easily attainable for Malim. During the presidential election season last fall, Facebook announced a ban on certain political ads to avoid the spread of disinformation. Epimonia's ads on the social media platform were pulled, causing sales to dramatically drop, Malim said.
"It's very frustrating for me … to be categorized with groups using false advertising for political reasons," Malim told the New York Times. The ads were reinstated earlier this year.
Since Epimonia's business model is based on e-commerce, Malim said the pandemic hasn't affected sales much. It did deplete some of its life jacket supply as fewer refugees were able to come to Europe due to COVID-19 restrictions, but the company already had a lot on-hand, he said.
Looking ahead, Malim is planning to collaborate on a line of hats with Minnesota United FC next month. The hats would include the fashion brand's orange patches, Malim said. He counts this as one of his biggest accomplishments, "especially having a sport team like Minnesota United on board to support refugees," he said.
Malim is also hoping to work with even more outside entities, like other fashion brands, influencers, artists and actors to gain greater awareness for the refugee cause. This month, Malim did an interview and editorial photoshoot with Kat Graham, who is known for her role in The Vampire Diaries.
These collaborations, and the business itself, are meant to further the brand's mission of supporting refugees and garnering recognition for the cause, Malim said.
"It's a good conversation starter," he said. "There's an ongoing crisis and we need to bring attention to it."
– Follow Caitlin Anderson on Twitter @EdinaSunCurrent
Copyright ©2020 at Sun Newspapers/ APG Media of East Central Minnesota. Digital dissemination of this content without prior written consent is a violation of federal law and may be subject to legal action.