Luxury shrooms and off-piste fits: What's in fashion?
Main image courtesy of Miu Miu, Louis Vuitton and Universal Pictures. Collage by Douglas Greenwood. 
Fashion week is finally over! Take a deep breath, pour yourself a glass of champagne, catch up on our reviews, and dust off your salopettes. Yes, you read that correctly. If there was one key takeaway from Paris Fashion Week, it was that — even with travel restrictions still in place (perhaps even more so because of them) — apres-ski style is very much back on piste. And as usual, Lady Gaga is ahead of the curve. The AW21 shows may have come to an end, but of course, there's never a dull week in fashion. So, here we are with our grace-saving edit of fashion news you may have missed this week! Congratulations on making it this far. Here's what's in fashion.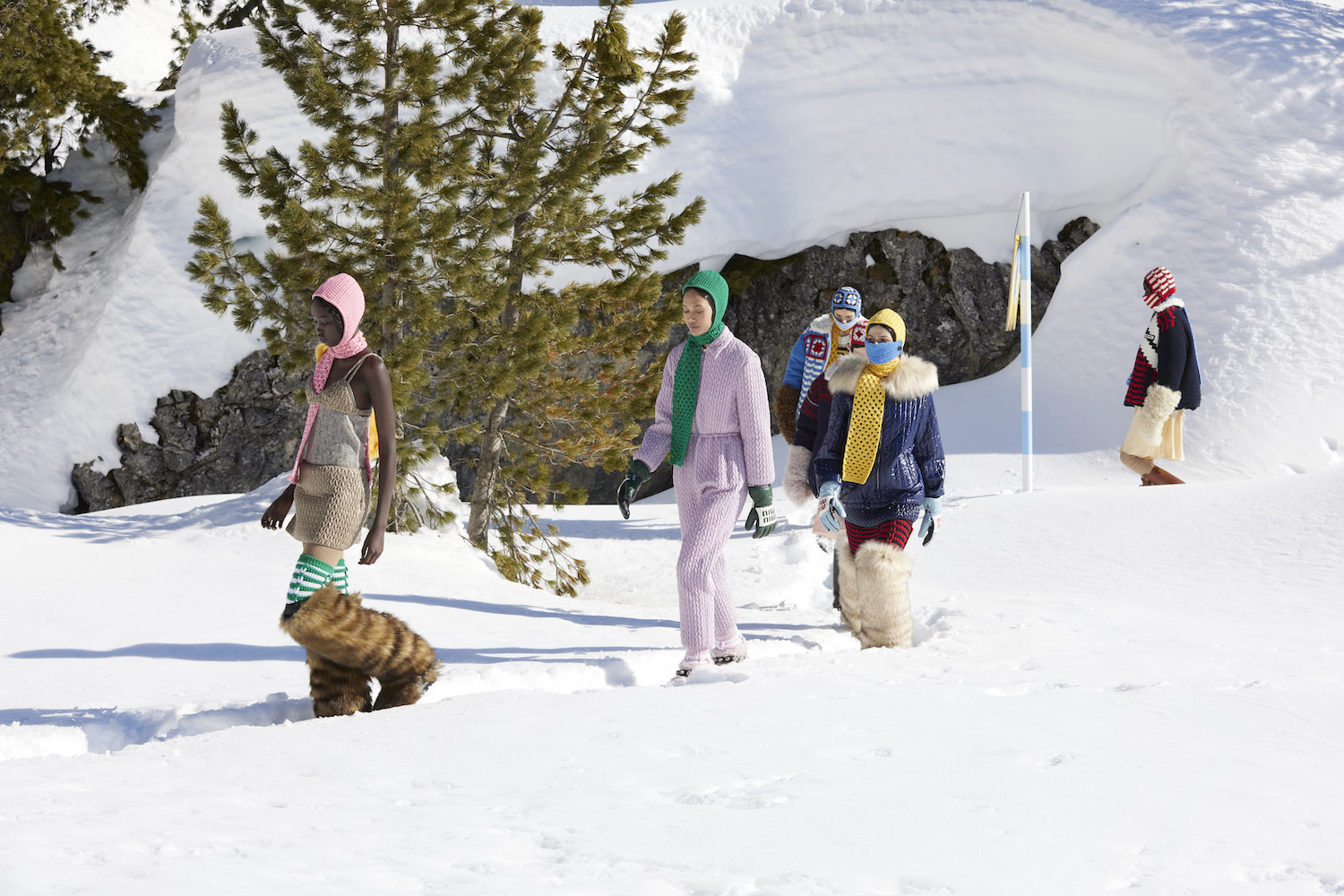 Miu Miu's AW21 collection, which took place in the Italian Alps.
AW21 is going to be very Alpine
Oh, what we would give to be snuggled up by a fire in an Alpine chalet right now. Ski holidays may be a distant fantasy for most of us, but they've been occupying the imaginations of fashion's biggest dreamers. Miuccia Prada staged her Miu Miu AW21 collection in the snowy peaks of the Dolomites as an idyllic backdrop to knitted balaclavas and fuzzy faux fur boots; Chanel's Virginie Viard riffed on apres-ski style with quilted salopettes and shearling Coco-esque jackets; and at Louis Vuitton, Nicolas Ghesquiere opened his show at the Louvre with a pair of monogrammed ski goggles worn as a necklace. In that serendipitous twist of fate that ushers in a trend, there's even been a Hollywood nod to off-piste style. Of course, we're talking about Lady Gaga and Adam Driver as retro snow bunnies in Ridley Scott's upcoming House of Gucci film. It's official: ski style is the new skate style. It's almost like a breath of fresh (Alpine) air. OA
21 Savage in the campaign for Louis Vuitton's Summer 2021 capsule collection.
Virgil Abloh can't wait for summer, either 
You better believe it: summer is coming. Thankfully,  Virgil Abloh has everyone's favourite season covered with a new capsule of Louis Vuitton menswear that will arrive in stores just in time for your last-minute holiday spree. Fronted by American rapper 21 Savage, the breezy collection of embroidered shirts, leather blousons, denim and rainbow-hued windbreakers and swimwear takes its cue from the Venice Beach scene. Even better, those bright pastels were produced without chlorine or metal dyes, and all of the cotton is organic and the nylons recycled. Stylish and sustainable? Colour us happy! OA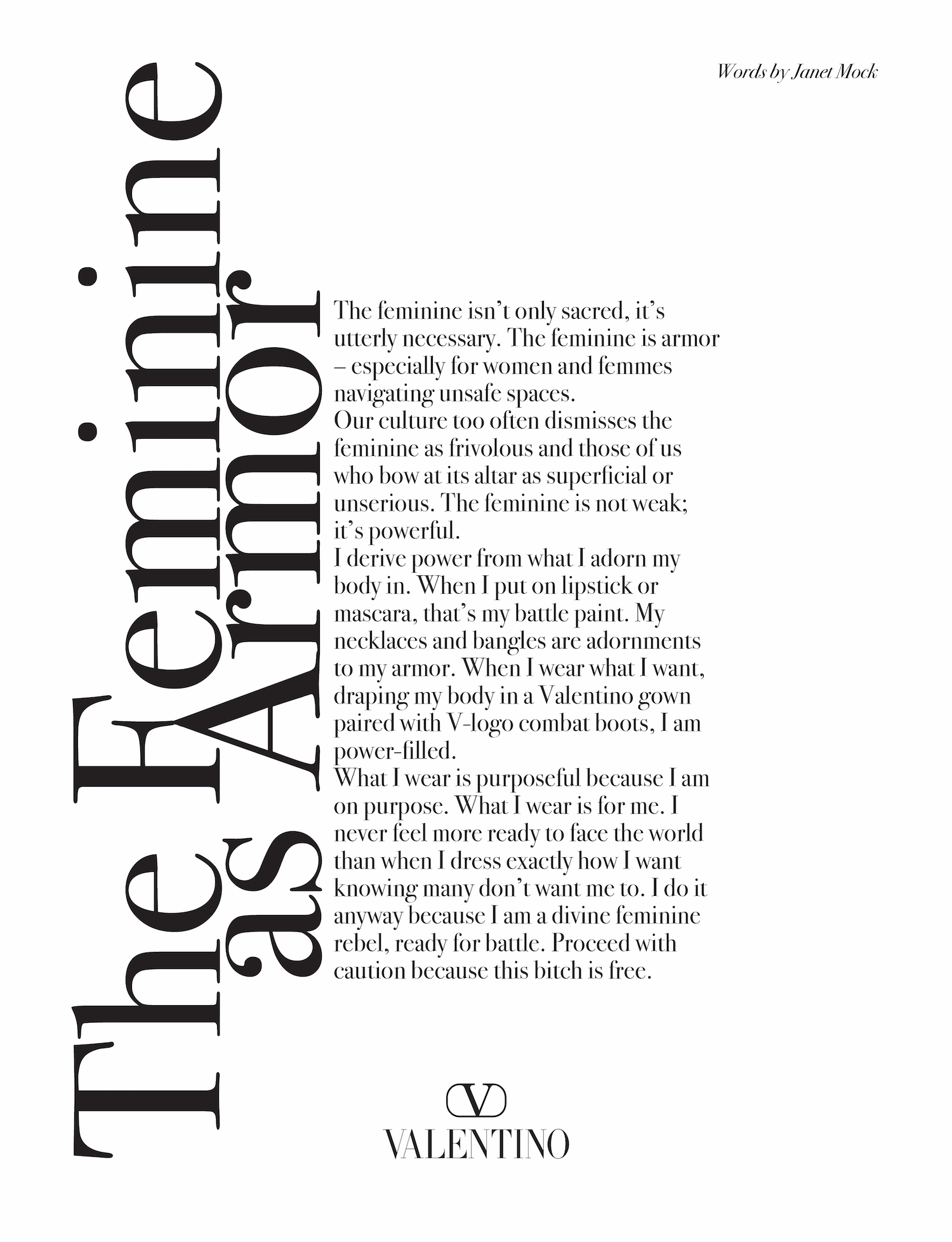 An image from Valentino's SS21 campaign, with words by Janet Mock.
Valentino goes book smart for its SS21 campaign
There are few alleyways of popular culture where the old adage that 'a picture is worth a thousand words' resonates quite as strongly as fashion. This is, after all, is a visual industry, in which powerful imagery reigns supreme — everywhere apart from Valentino, that is. For its SS21 campaign, the noble Roman has forgone the well-trodden path, with Naomi Campbell or Adut Akech nowhere in sight. Instead, Pierpaolo Piccioli has turned to the literary world to scout this season's stars. Rather than enlist a blockbuster photographer to lens Donna Tartt, Elif Shafak, Janet Mock, Lisa Taddeo, Matthew López, Ocean Vuong and Yrsa Daley-Ward, he asked each writer to pen the campaign. "I am a poetry reader and this helps me to visualise words and to deliver my emotions and vision," says Pierpaolo, "I think poetry protects our humanity and allows inner explorations, it gives you the lens through which one can really touch the nature of our most intimate feelings." Spanning imagined love letters and cryptic one-liners, each one-pager strikes at the sentimental values at Valentino's heart. Pure fashion poetry! MS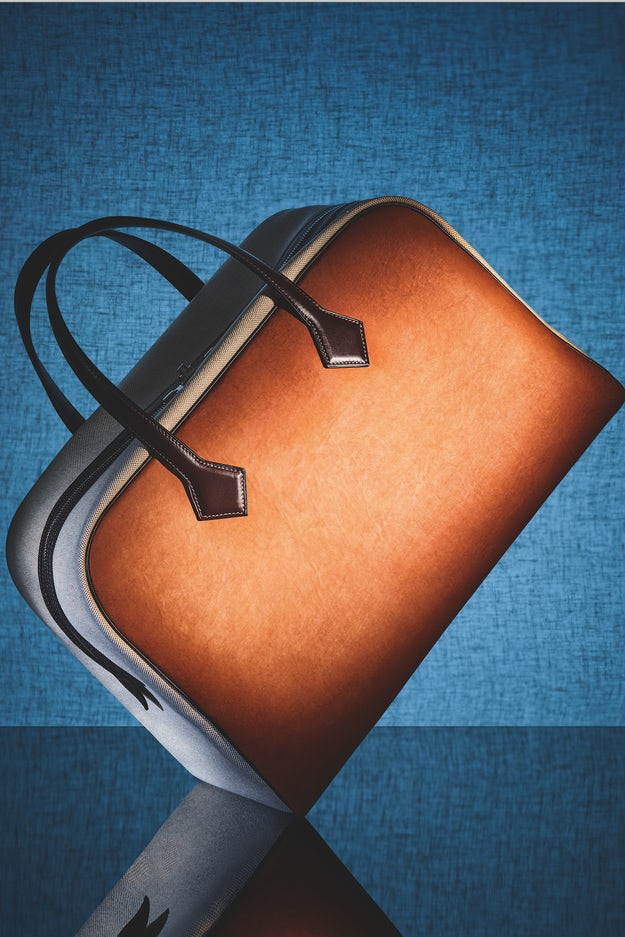 Hermès' 'Victoria' bag made with Sylvania, a leather alternative developed with MycoWorks.
Hermès is getting on shrooms 
Shrooms are very much in vogue. No, not that kind! We're talking about mushroom leather. This week, Hermès — arguably the arbiter of the most luxurious, expensive leather goods — announced a plant-based collaboration with MycoWorks, a California-based start-up that has developed a patented process to turn mycelium — a network of threads from the root structure of mushrooms — into a material that imitates the properties of leather. This is big news in the luxury arena: high fashion suitable for vegans. Leather, of course, has an enormous impact on the environment, largely due to the water, land and energy to rear cows and potentially hazardous chemicals to treat and dye the hide. This plant-based alternative is a bold step for one of the world's leading leather manufacturers (although arguably, Hermès is the antithesis of disposable fashion). The first Hermès handbag featuring its shroomy leather will hit stores later this year. OA
Sacai and KAWS come together to make "wearable art"
Fashion loves KAWS. The American artist is no stranger to a brand collaboration, but his latest is perhaps his most fully-fledged yet. Sacai's Chitose Abe enlisted KAWS to create original artworks that are emblazoned across her AW21 menswear and Pre-Fall 2021 womenswear collections, which are an exploration of countercultural codes, specifically punk and hip-hop. The Tokyo-based designer's signature jigsaw-like creations are kept simple this season, the ideal frame for the painterly artworks. She calls them "wearable art". Is there any other kind? OA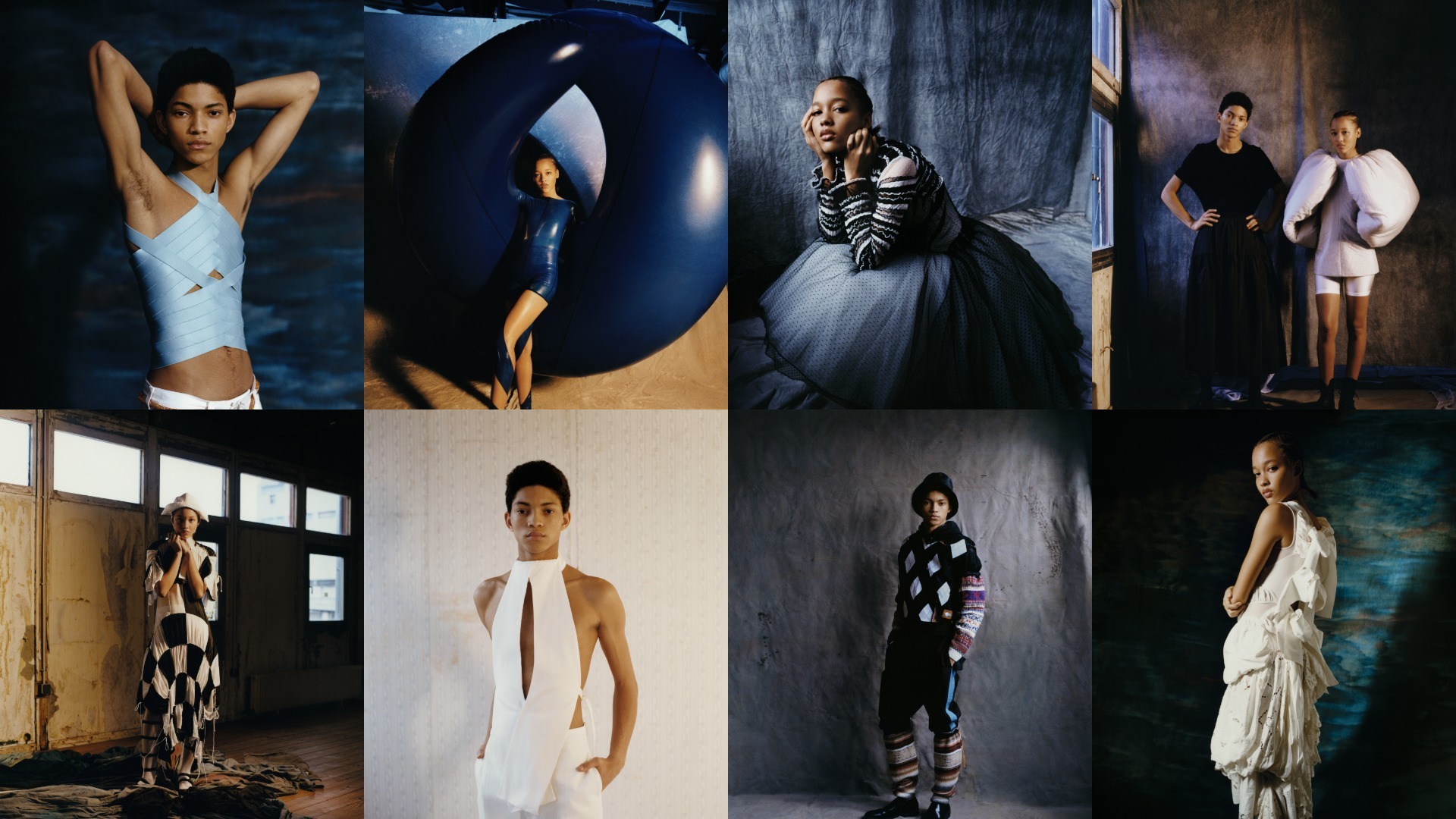 Meet the new decade's new designers
At the start of a new decade (the last year doesn't really count), a new wave of fashion designers are making their mark on the world. This is the bright-eyed generation of young designers who've had the glittering promise of a traditional start to a career in fashion slip from beneath their feet, before they've even had the chance to take their first steps. Did that stop them? Hell no! They've persevered, honing in on their skills, quietly working away on small collections with their own hands, getting inventive with limited resources, and — despite all the Sisyphean challenges — magicked up clothes that convey their ideas about the now and next. From upcycled bridalwear to giant latex bubbles, we profiled the designers making a difference in our new issue. Meet them here. OA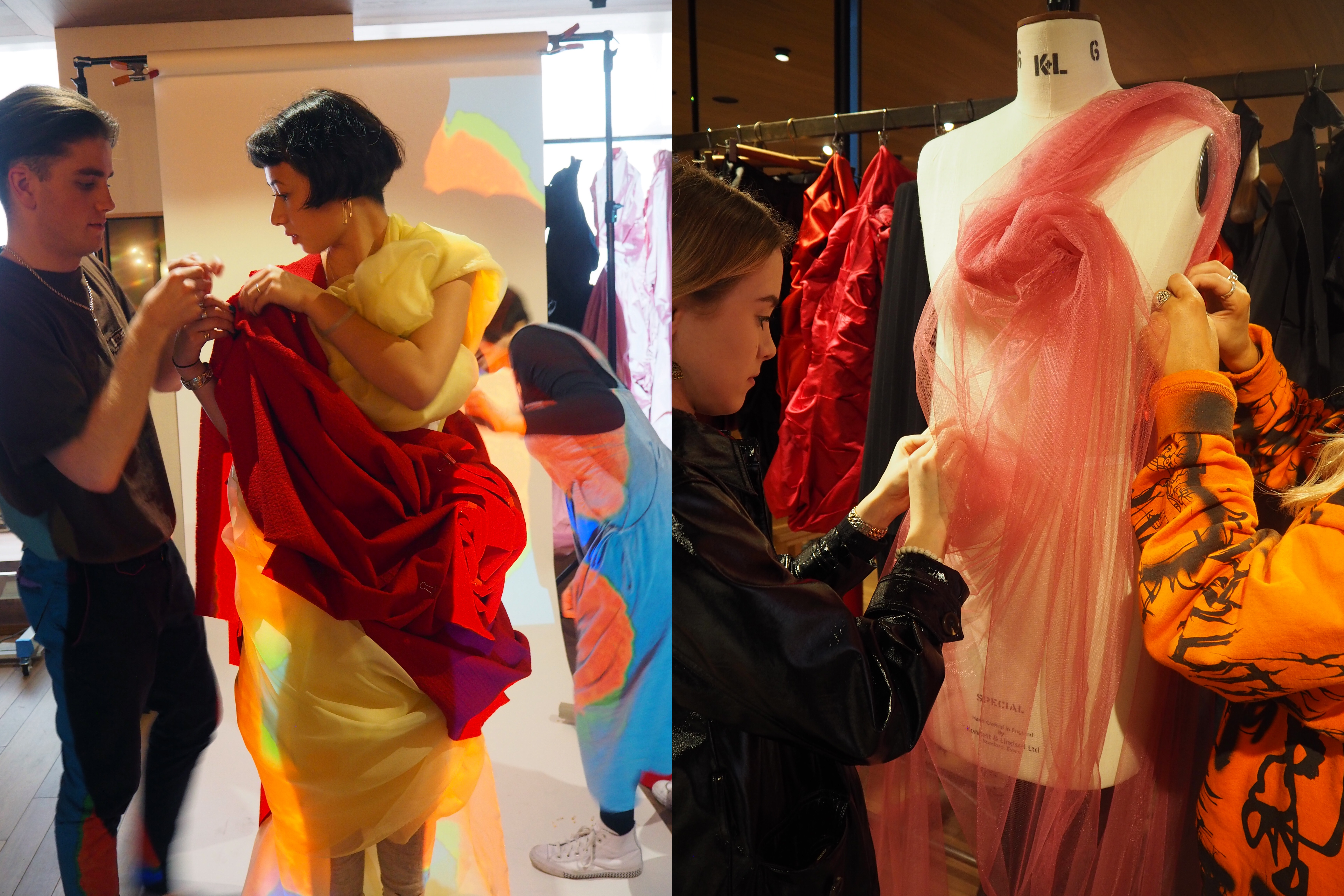 Fashion students working with surplus fabrics donated by Alexander McQueen
Alexander McQueen proves that sharing is chic
Sometimes, fashion shows that it really does have a heart. Throughout lockdown, Alexander McQueen has been quietly supporting young designers with donations of its deadstock materials. A delivery of fabrics is currently making its way to fashion and textiles students across the UK through a scheme that was introduced by creative director Sarah Burton in 2019. To date, McQueen's fabric donations have been delivered to more than 20 British institutions and fashion education community projects, with the aim to increase that number significantly in 2021. Not only does it support fledgling creatives, but it helps curb surplus waste for the brand. "When times are so much more difficult for young creative people," Sarah said, "taking action to share our resources and open eyes to opportunities has become a central in-house commitment at Alexander McQueen which we all take very seriously." Bravo, McQueen! Read more about it here. OA
Central Saint Martins students, Kana Takahashi and Sofia Castellion's designs for Chelsea FC.
Footie gets a fashion makeover 
Football and fashion have much more in common than you might think. Big egos, narcissistic players, monolithic brand deals, and, of course, iconic looks (and we're not just talking about the WAGs). This week, Chelsea FC revealed the results of its collaboration with Central Saint Martins. In October, more than 80 students working across CSM's BA fashion design and image-making courses were tasked with bringing to life the ever-growing connection between football and fashion, riffing on sweat-dripping players for wet-look garments; religious iconography to invoke the diehard fanaticism; and of course sportswear and crochet scarfs in the club's signature blue. The result is a project titled 'Digital Stadium', a hub of fashion inspired by the crescendo of the last ten minutes of a football match, which is sort of the equivalent to a fashion show's finale. Totally the same, really. You can check it out here. OA