Chic Valentine's gifts and knights in shining armour: what's in fashion?
With Valentine's Day just two sleeps away, fashion's feeling all loved up. This week, alongside the usual campaigns, collaborations and industry news, we're bringing you an edit of our favourite lovey-dovey products and capsules for all those yet to pick up a present for their paramours. And if you're not shacked up, they'll also make for perfect gifts for… yourself? As the great RuPaul says: "I don't wanna see any fucking H&—" Wait! Not that one… Here we go: "If you can't love yourself, how in the hell you gonna love somebody else?" Amen! Here's what's in fashion.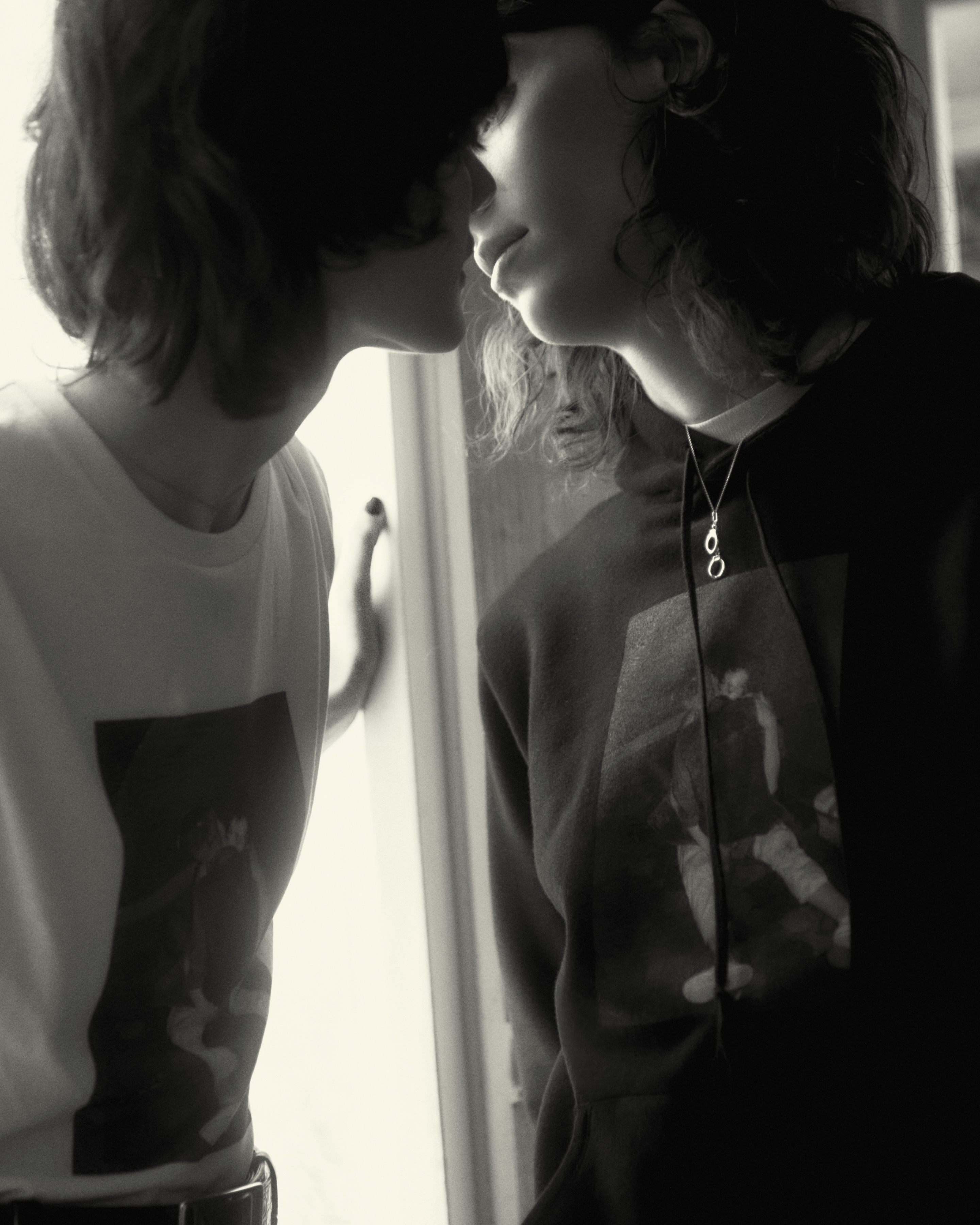 Photography Derek Ridgers. Image courtesy of Saint Laurent
Saint Laurent, be my Valentine!
Take one iconic photographer and an equally iconic French fashion house, and what do you have? A Valentine's match made by Cupid himself! Saint Laurent is staging an exhibition of photographs by Derek Ridgers, the British photographer known for his subcultural portraits, hand-picked by creative director Anthony Vaccarello. As well as appearing in the LA and Paris boutiques, Derek's photos of snogging club kids will also appear on a line of Saint Laurent T-shirts, and in a zine published by the house. And if that wasn't enough, Saint Laurent has also partnered with La Maison du Chocolat on an "exclusive" box of sweet treats (dark choccy ganache and glazed chestnuts, mmmmm), as well as Paris-based Castor Florist on bouquets of Anthony's favourite black baccara roses — oh, and they even come with a Saint Laurent-branded condom. That's V-Day sorted then! OA
Medea taps Harry Freegard for its surreal AW21 campaign
Medea, the cult accessories label founded by Milanese twins Camila and Giulia Venturini, needs no introduction (if it does, then catch up here… quick!!). Since first appearing on our radar two years ago, their impeccably crafted, structured leather shopping totes have shot up the fashion ranks, becoming bona fide bags du jour. For AW21, the sisters are presenting their most comprehensive, sustainable collection yet, featuring slouchy silhouettes in leather that uses no polluting heavy metals in its tanning process. There's also a new 'harlequin' capsule of its iconic Dieci shape, composed of the multicoloured scraps of leather left over from previous collections. Another tradition at the heart of the brand that's been carried over is collaboration. Previous seasons have seen the sisters work with everyone from Nan Goldin to fellow fashion twins Laura and Deanna Fanning of Kiko Kostadinov. This season, they passed the bag-shaped baton over to London-based artist and designer Harry Freegard, who brought the Medea bag into his surreal world of freewheeling fashion fantasy for the label's AW21 campaign. MS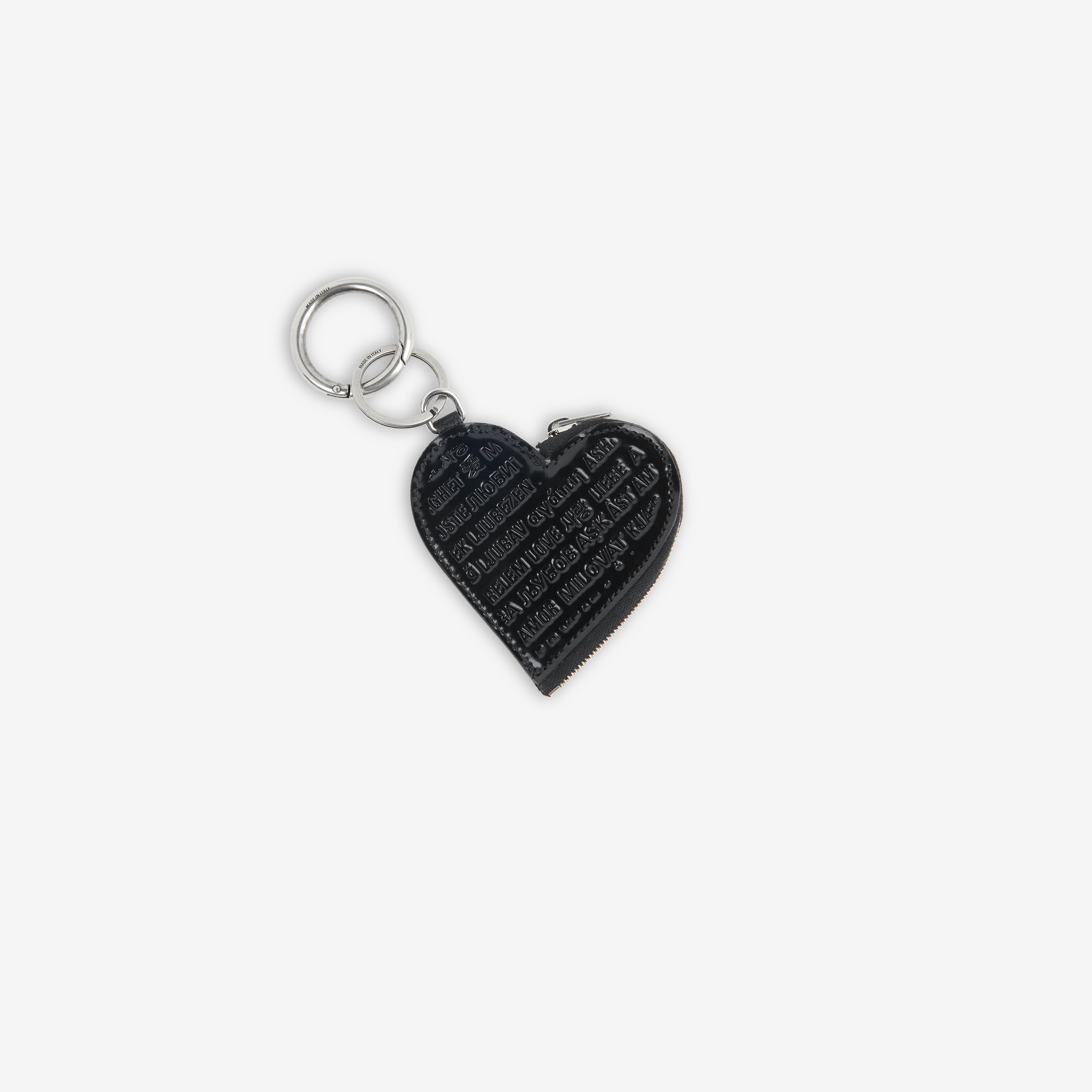 Image courtesy of Balenciaga
Lovesick? Balenciaga has got your back
Who needs a lover when you have a wardrobe brimming with Balenciaga? We, of course, are single ladies with many loves, including Demna Gvasalia. And thankfully, Demna loves us, too — he's even given us an array of Valentine's Day treats to be enjoyed solo. Yes, we have to buy them — we believe it's called 'self-love'. Balenciaga has released a line of "I <3 U" T-shirts, hoodies, heart-shaped key chains and jewellery just in time for Feb 14. They've also released some of their accessories in pretty pink and slut red — and, ever the digital pioneers, the French house has created an online portal where you can make your own V-Day selfie cards, which you can not-so-secretly email to your single pals. Or, just do what we did, which is make one and set it as your desktop background. Narcissism? It's called 'Self-Love', hun! OA
Chic knights in shining armour are on their way
Here's some welcome news for all those still waiting for their knights in shining armour to show the fuck up. If the fashion oracles (better known as designers) are to believed, they're well on their way! The downside, though, is that they won't actually be here until around October, when the AW21 collections hit the shop floors. The fanfare alerting us of their coming was first heard in the distance late last year, when Balenciaga brought us those proto-medieval thigh-high armour boots. By the time we made it to 'Resurrection', Boramy Viguier's Grail myth-inspired AW21 film filled with tabard gilets and claret velvet robes, it was blaring loud and clear. Any whispers of doubt were then drowned out earlier this week when Hedi Slimane took the Celine brigade to the Château de Chambord — one of the finest examples of late medieval French architecture — to moodily storm the ramparts in fleece-lined denim crusader capes, chainmail-lapelled blazers, and buttery leather tabard vests. The cavalry is coming, girls! MS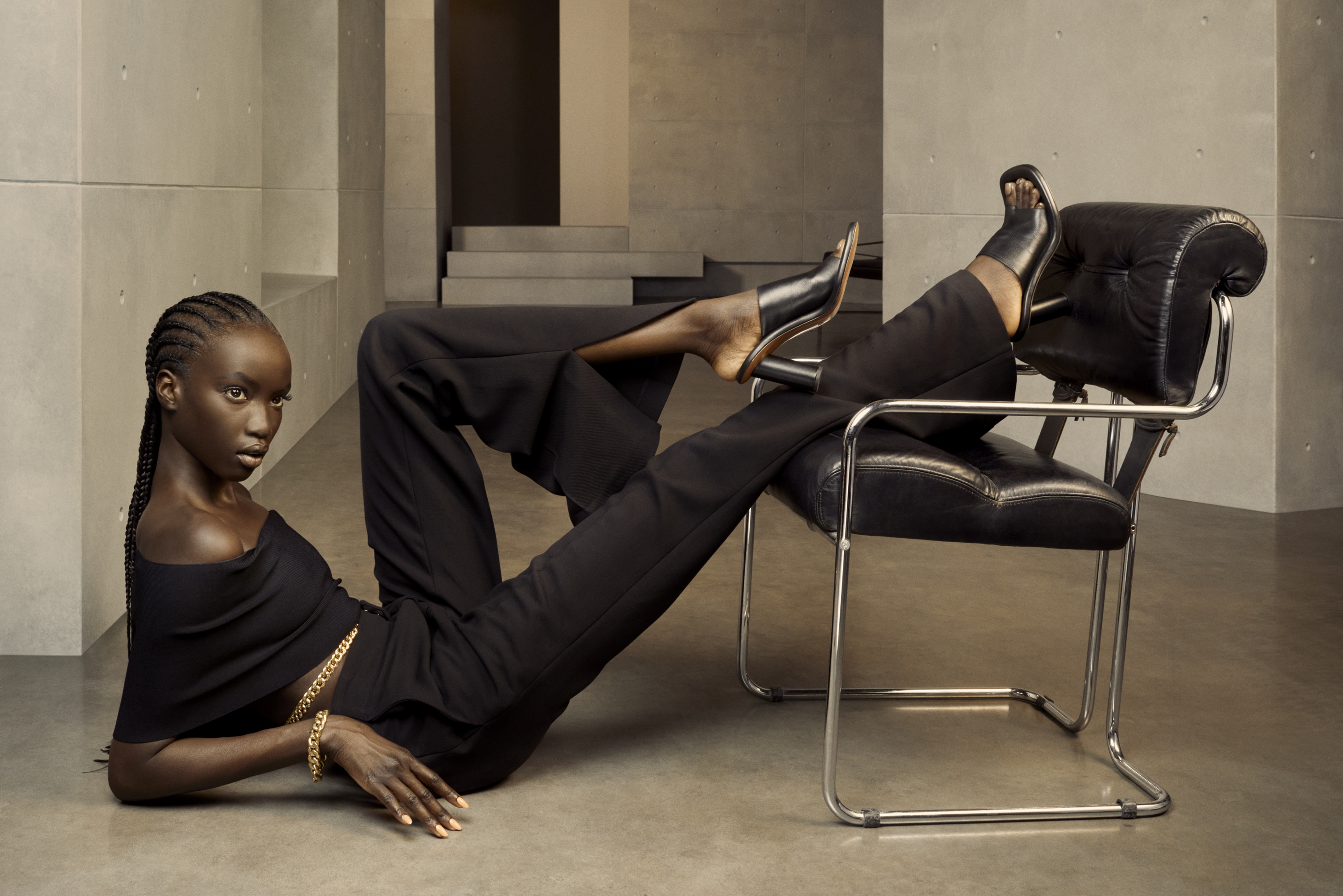 Photography Ethan James Green. Image courtesy of Ambush
Ambush wants you to stay at home!
'Comfort' could well be fashion's word of the year, despite the fact that we're only six weeks in. Comfortable clothes, comfy shoes, comforting ideas. We can't get out of our comfort zones! We're all staying at home! Ambush's first-ever campaign explores that very idea, placing models-of-the-moment Anok Yai and Malik Anderson in a dreamy interior setting resembling Yoon Ahn's studio in the Shibuya district of Tokyo. Photographed by Ethan James Green and styled by i-D's Carlos Nazario, the SS21 campaign is full of ostensibly very uncomfortable Italian furniture and billowing duvet-like backdrops, the perfect setting for Ambush's supple leather accessories and relaxed-fit tailoring. It's enough to make us contemplate going beyond our own comfort zone, which is, err, trackies and slippers. OA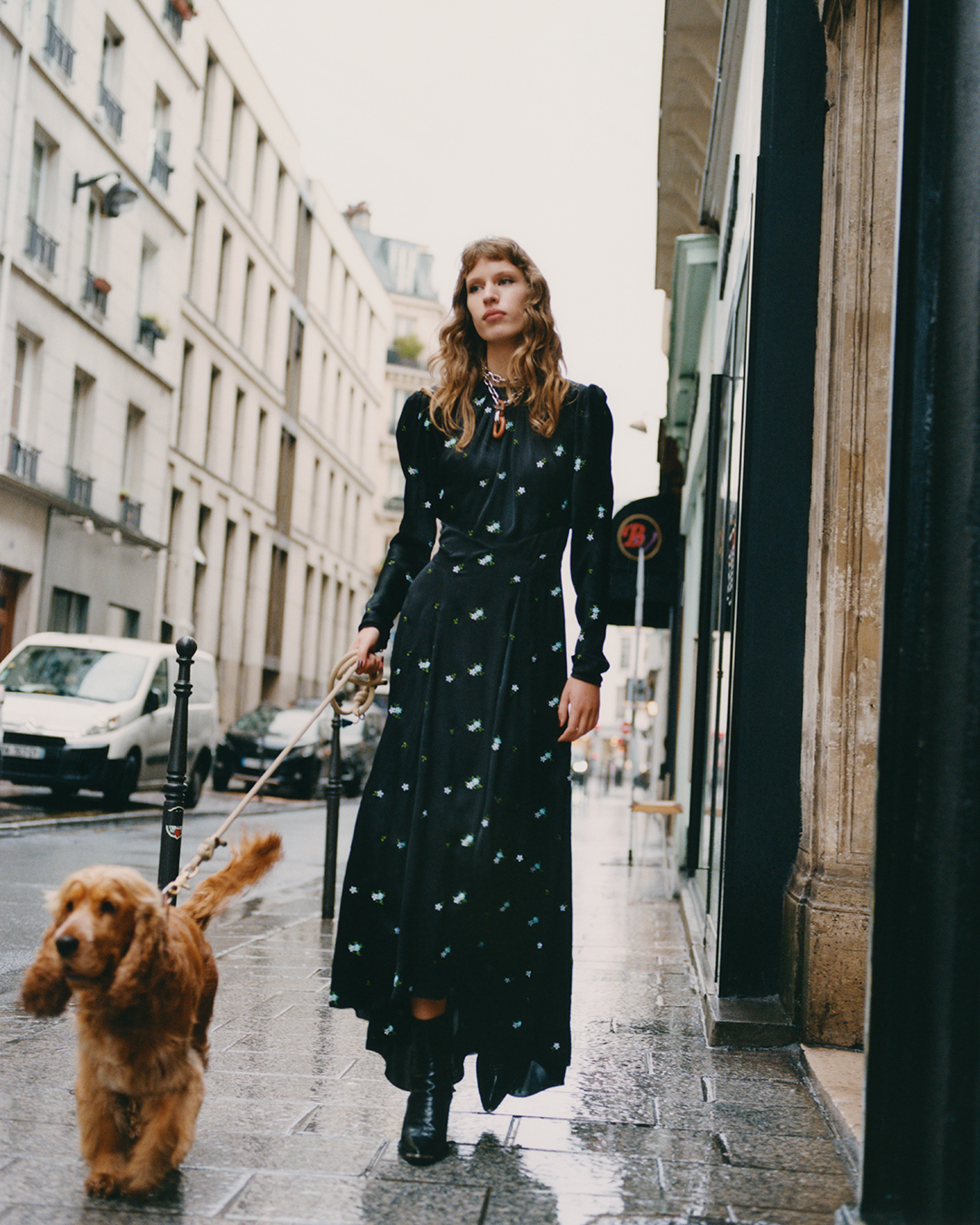 Photography Stef Mitchell. Image courtesy of Paco Rabanne
Paco Rabanne reminds us of the joys of a life lived outside
A label as well-versed as any in how to pull off DnD chic is the house that's been taking chainmail and making it fashion since the 60s — Paco Rabanne. For its SS21 campaign, though, creative director Julien Dossena decided to lead with the spirit of breezy, eccentric elegance that the label is just as well known for. He enlisted i-D contributor Stef Mitchell to capture the elongated silhouettes from the collections Dress for the Streets capsule in situ on the streets of Paris: on a girl with tousled locks taking the dog for a walk, her floral-printed, pleated dress billowing gently in the breeze; or on two friends — one in shimmering gold paillette skirt, the other in delicate lace dresses, taking shelter from the rain in a building's alcove. It's an ode to life as we once lived it en plein air, and to the fantastic normality we'll one day return to. MS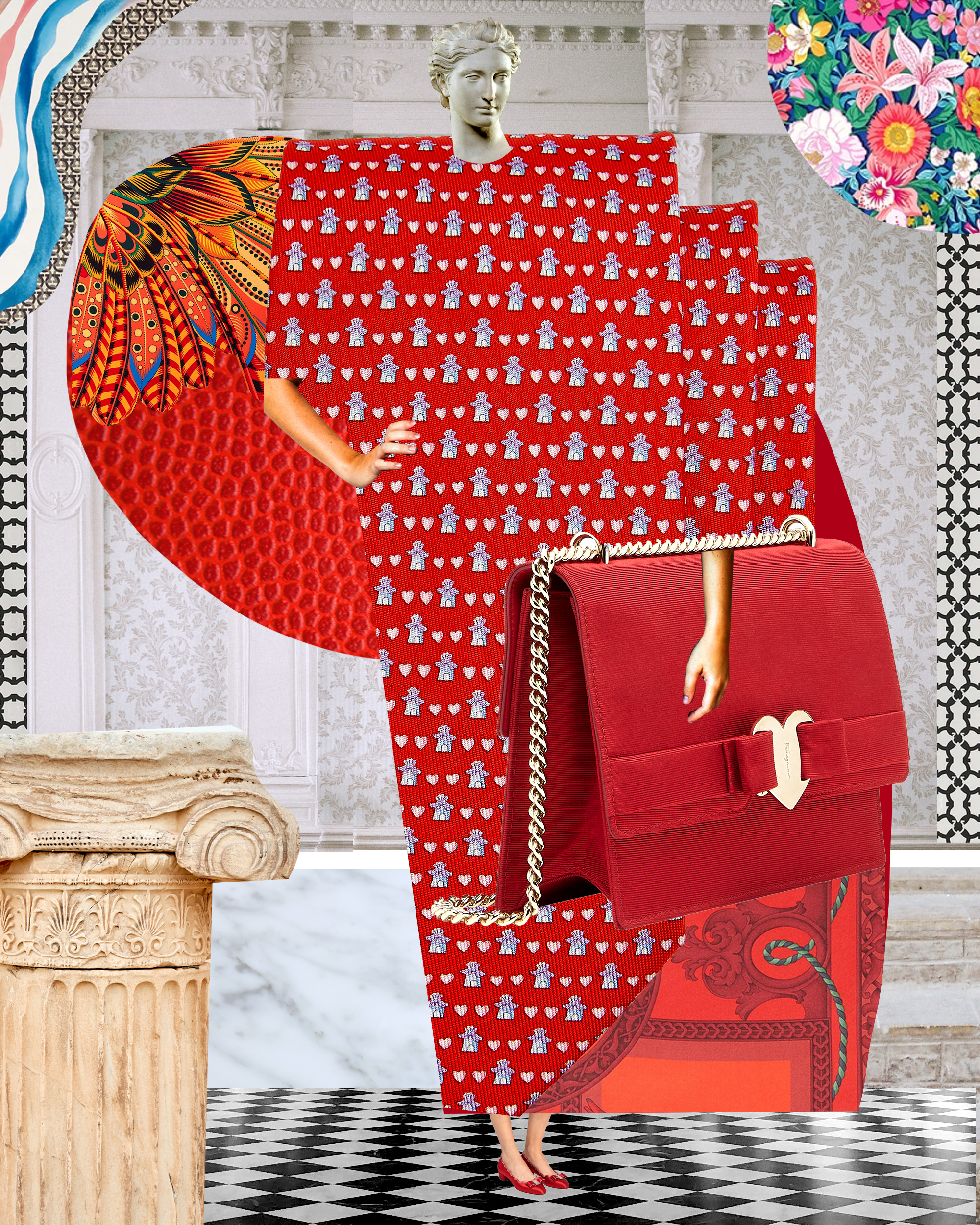 Collage by Johanna Goodman. Image courtesy of Salvatore Ferragamo
Salvatore Ferragamo is bringing a bit of culture to Valentine's Day
Valentine's Day isn't just about gifts, you know? I mean, it is, but it's also about — oh, what was called it again — ah yes, LOVE! That hoary old chestnut, allegedly the only thing we need. To mark the occasion, Salvatore Ferragamo has teamed up with five international artists — Charlotte Mei, Davide Ronco, Johanna Goodman, Mert Keskin and Ruth van Beek — to reimagine the brand's symbolic motifs, such as the Gancini logo and house classics, such as the 'Viva' ribbon-bow pumps. The result is a project they're calling 'Patchwork of Love', a combination of collages, animation, illustrations, photos, videos and sculptures which can be discovered here. It's a bit of culture to be enjoyed this weekend, in lieu of a romantic stroll to a gallery. But let's be real, the gift shop is always the best part of those trips, so consider Ferragamo's 'Vara' bag with a heart-shaped grosgrain bow, or the 'Gancini' earrings in gold and red rhinestones. Go on, you deserve it. OA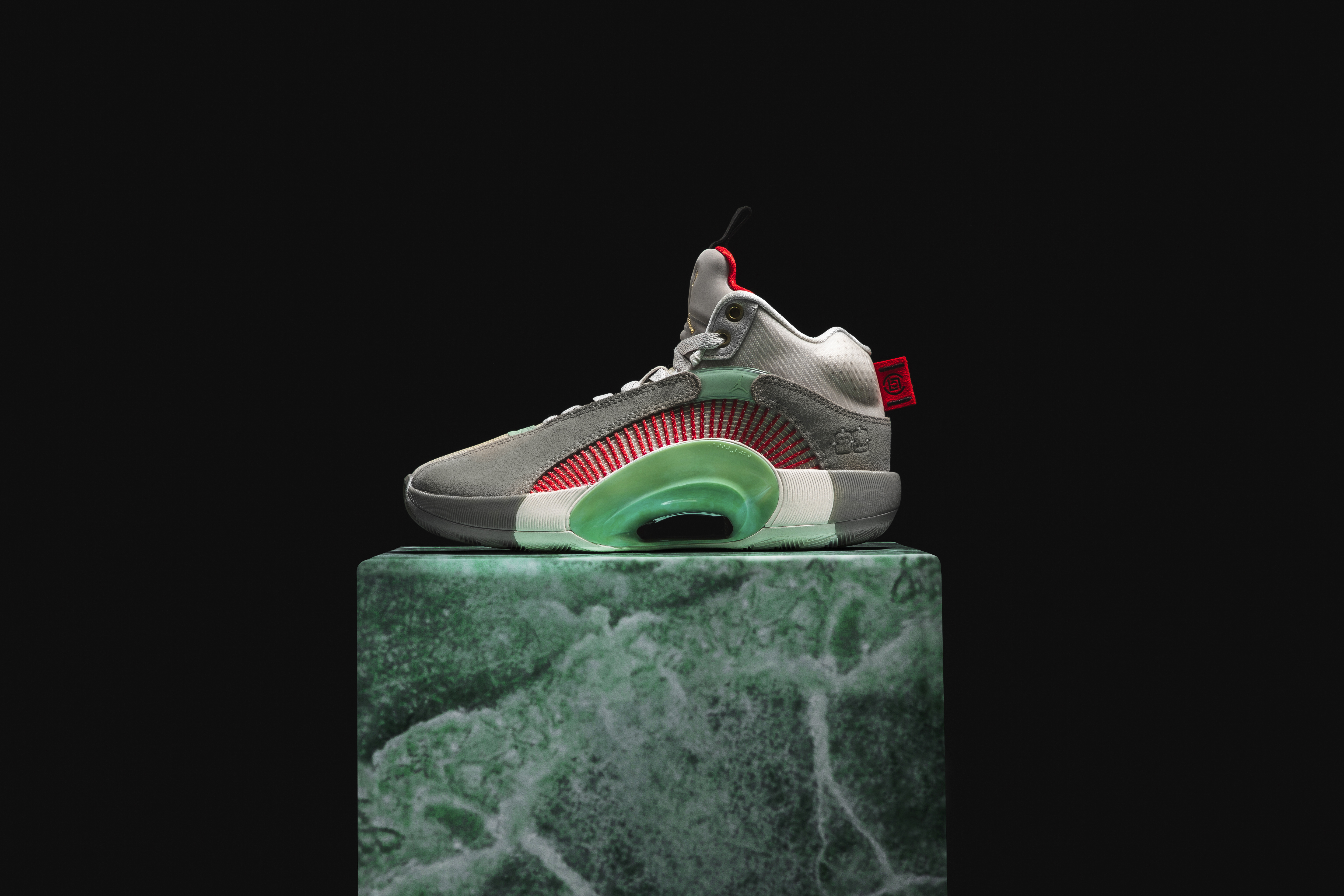 Image courtesy of CLOT x Air Jordan
CLOT puts an East-meets-West twist on the Air Jordan
NEW SNEAKER ALERT! When Hong Kong streetwear label CLOT paired up with Air Jordan back in 2018, they created an artifact of sneaker culture lore, the Air Jordan 13 Low "Terracotta Blush". Now, the pair have joined forces again, with CLOT bringing its signature East-meets-West aesthetic to not one, but two of the Nike label's most iconic shoes: the low-top Air Jordan 14 and the hi-top Air Jordan 35. Released earlier this week, the first sneaker builds on the aesthetic narrative laid down by its predecessor, with its armour-like suede panelling and touches of terracotta, while the second gives the iconic basketball silhouette a refined touch-up, accenting the mineral-toned sneaker with fine red stitching and cool jade motifs. If this isn't a must-cop, what is?? MS
Paris welcomes a Bright Young Thing
Another week, another newly-appointed creative director! This time, it's chez Rochas, the French fashion house that began life almost a century ago. The lucky designer is 24-year-old Charles de Vilmorin, who only graduated from fashion school last year. After stepping into the limelight with his graphic, colourful first collection — his work has all the vibrancy of a Niki de Saint Phalle sculpture — Charles has since won acclaim from some of his fashion heroes, including Jean-Charles de Castelbajac and Jean Paul Gaultier, who personally sponsored his guest appearance on the Paris haute couture calendar last month. It's not every day that a young designer is given carte blanche at a couture house, least so one with such a psychedelic take on gender-fluidity. Here's hoping Paris has a new enfant terrible! OA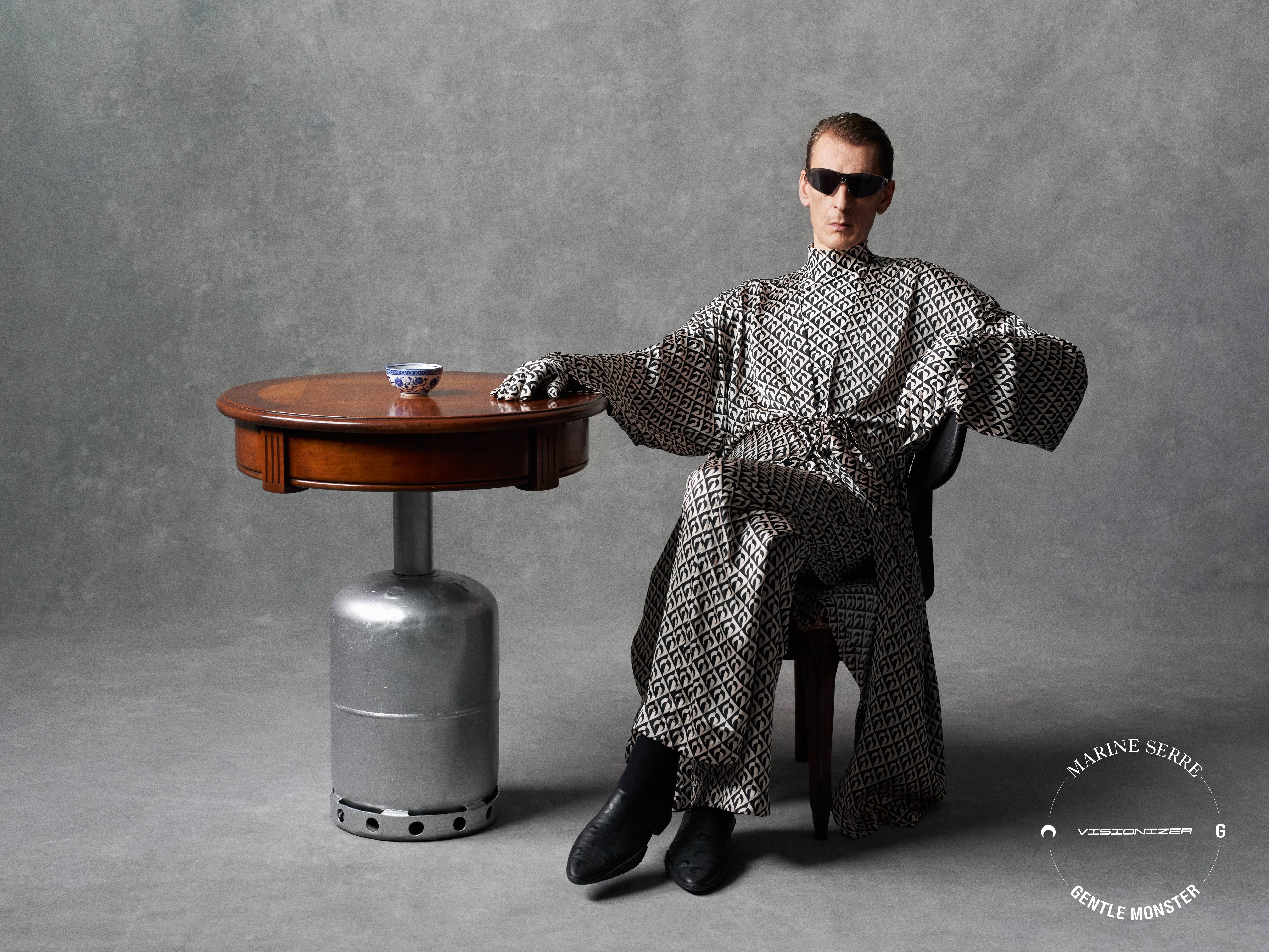 Image courtesy of Gentle Monster
Marine Serre and Gentle Monster see sunglasses in our future
With the world's course towards apocalypse all but slowing down, the one designer we should be turning to figure out what to wear is Marine Serre. Why, you ask? Remember that SS20 show with the haute-facemasks? Well, what became a wardrobe fixture from the spring of 2020 onwards? We rest our case. Anyway, according to the Parisian designer, the next day-after-tomorrow accessories we should be stocking up on are retro-futuristic sunglasses. That's what we're getting from Marine Serre's new collaboration with South Korean eyewear specialists Gentle Monster. This week, they've come out with two frames — one is a riff on the wraparound snowboarding glasses that gorpcore dads sometimes wear, the second a chic nod to cyclist goggles. While we don't know what harrowing global events Marine has seen in her crystal ball that necessitate such chic protective eyewear, we'll be damned if we don't look fab when they come! MS