What I Packed for Key West
I'm back with a packing roundup! We took a week off for a mini getaway to Key West. It's been five years since we've visited and this trip we took my in-laws with us. We took the Key West Express from Fort Meyers this time. Overall it was crazy hot and humid during our time but we still had a lot of fun! It was a relaxing trip, we did a lot of walking.
A quick look at the hotel we stayed at. Andrew and I booked a 2 bedroom cottage at The Capitana Key West. It's one of the newer hotels and we really liked it! Super clean, nice modern design, daily housekeeping, cute pool and lounge area. It is 2 miles outside of downtown so you will definitely need a car or golf cart of some sort as it's too hot to walk that far. Here's a quick look. If you want to see the inside, I did a mini room tour on Instagram I'll post below.
For packing Andrew and I packed up 3 Away Bigger Carry-Ons (there was a size limit for luggage on the ferry). I still really love these suitcases and highly recommend them. The Bigger Carry-On is the perfect size to pack essentials for an extended weekend getaway. I also really love their Packing Cubes – both Andrew and I use these. For longer trips we have and like the Medium Suitcase. Their Accessories selection is pretty good these days too! I bought Andrew the Large Toiletry Case and he approves of the design, material and quality!
What I packed below (each item is clickable to take you directly to shop the item):
I didn't manage to get photos of every outfit I wore but here are a few snapshots.
Outfit 1: Top Bella Dahl // Shorts Agolde Parker // Bag Loewe Pochette // Sandals Fendi // Sunglasses Celine Triomphe Oval
_________
Outfit 2 Poolside: Swimsuit HunzaG Domino // Sunglasses Celine // Lip Balm Makeup by Mario // Tote Loewe Small Basket // Hat Jacquemus
_________
Outfit 3: Dress Reformation (older style, similar here) // Sunglasses Celine // Shoes Tory Burch
_________
Outfit 4: Top Free People // Shorts Agolde // Sandals Chloe // Bag Bottega
_________
Outfit 5: Top Rails Ellis Button Down // Shorts Agolde // Bag Loewe // Sandals Fendi
_________
Outfit 6: Dress Abercrombie // Sandals Tory Burch // Bag Loewe Small Basket
_________
I've never received so many questions as I have about shoes! Here are the highlights on sizing and comfort:
Tory Burch Double T Sport Slide is one of most comfortable sandals I've tried. I've owned this pair for a couple years now (also seen here and here). They've held up really well even though I'm not the most careful with my feet. While it doesn't have arch support there's a cushion in the sole which makes them really comfortable on the feet. They run true to size (I'm a 6.5 in most sandals). Comfort is 10 out of 10.
Ancient Greek Sandals Eleftheria Sandal are a recent splurge and I love the minimalist look. They're very sturdy and I like that they stay on the feet. The straps are not adjustable so it was pure luck that they fit me perfectly. I wish the straps were adjustable though – it seems like having a perfect fit isn't always going to happen since everyone has different widths for feet, ankles, toes etc. Comfort is 8.5 out of 10 for me. These come in whole sizes and the Size 7 works perfectly for me.
Chloe Woody Slide Sandals are ones I think are super cute, but comfort is a level 7 out of 10 for me. They're not painful but they're also not ones I want to walk around all day in. These come in whole sizes only and I wear these in a 37.
Veja Venturi Sneakers are cute for that chunky sneaker trend and I find them very comfortable. They're very comfortable to walk in around all day. Sizing reviews seem to be mixed (it may depend on color). For these I wear them in a US 6/ EUR37.fendi
Fendi Feel Slides were a splurge and I love them. They're very comfortable and I had no issues (no break in period). There is a slight arch support inside and the sole has some beveled edges to hug the feet (so there's no sliding around inside). Even with sweaty feet they stayed on. Sizing is big and wide. I have narrowish feet so I took these in a Size 36. I could have probably gone down to a 35.5 but the 36 is very comfortable. I would recommend going a 1/2 down from your regular size or buy from a retailer that has a good return policy.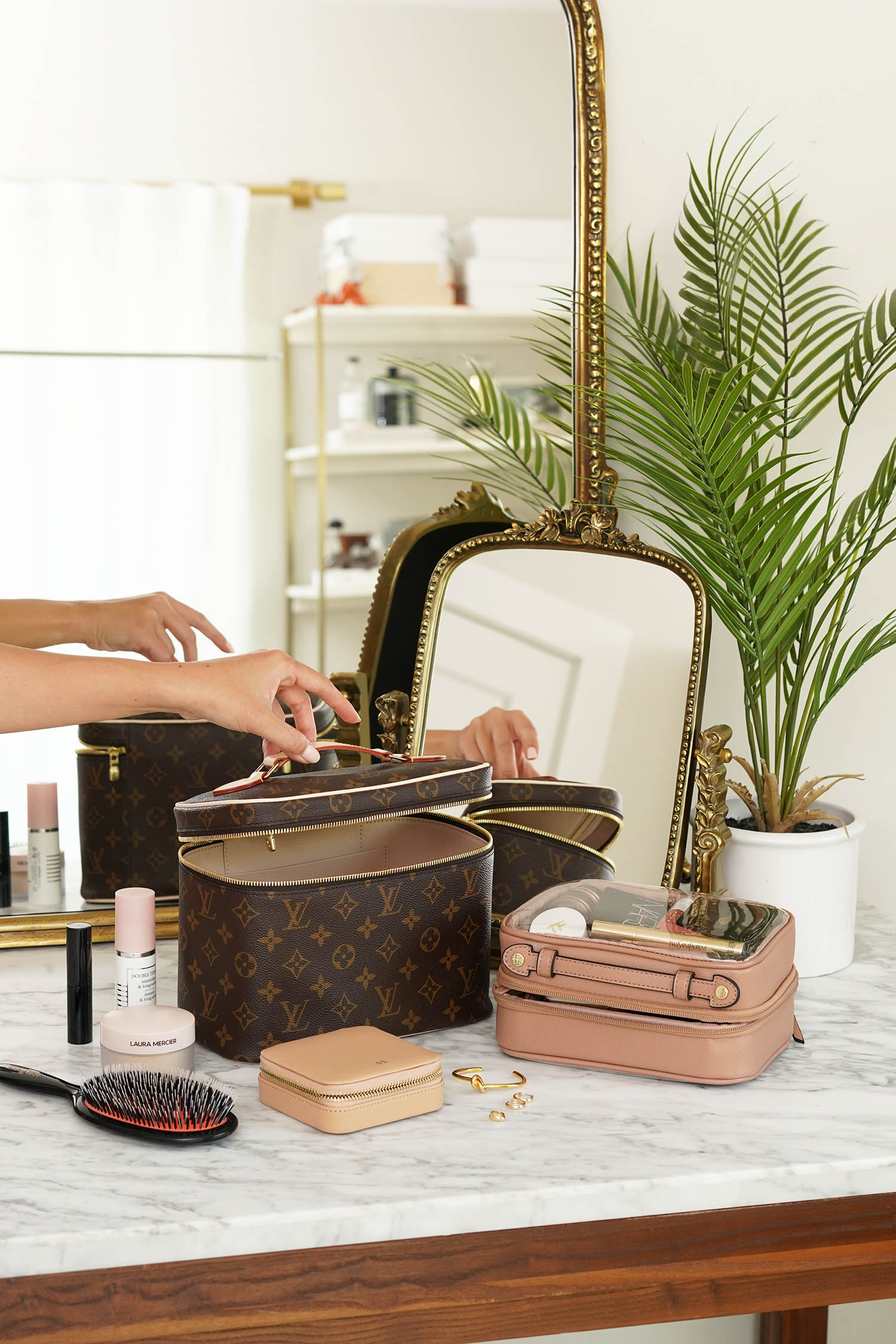 For beauty packing I packed up products in 2 different cases this time. For skincare and haircare I splurged on the Louis Vuitton Nice BB Case and love it. I just bought it so I've only been able to use it once on this trip. I'll be able to share more thoughts as we travel more! Packing Reel sharing what fits inside below.
Skincare + Hair Care:

For makeup I packed everything in the Calpak Mini Cosmetic Case. This had been sitting in my online shopping cart for many months. I finally decided to order it in Caramel and love it. Super roomy even though it's the "mini" version. There's a bigger option available too!
I don't always pack hair tools but with the humidity in the Keys I wasn't going to take any chances on the hotel dryer. I packed up the T3 Micro Aireluxe and the ghd Platinum+ Styler. Both were great! I will probably switch up the dryer for a different one next time (this one took up a lot of room) but will 100% travel with the hair straightener. It's perfect to smooth out the hair in the morning.
Last thing I wanted to highlight is how I pack my jewelry. I usually wear my necklaces while traveling since I haven't found a travel case that works for chains (they always end up getting tangled). But for everything else the Mejuri Travel Case is perfect to store rings, three pairs or earrings and thicker chains. It's also available in black.
Have you been traveling this summer? We have been itching to travel more but Ollie is not yet ready to go with us (hopefully soon). He's been in puppy training the past 2 weeks so the timing worked out for us to have someone watch/train him this time. We really wanted to bring him but we're glad we did not (it was too hot and the ferry ride was too long for him!). He's learning so much! If you've traveled this summer let me know where!
If you want to see the places we visited you can check out my Key West highlights on Instagram @beautylookbook.