These Two Women Opened A Pop-Up Museum To Celebrate The Beauty Of Black Hair : NPR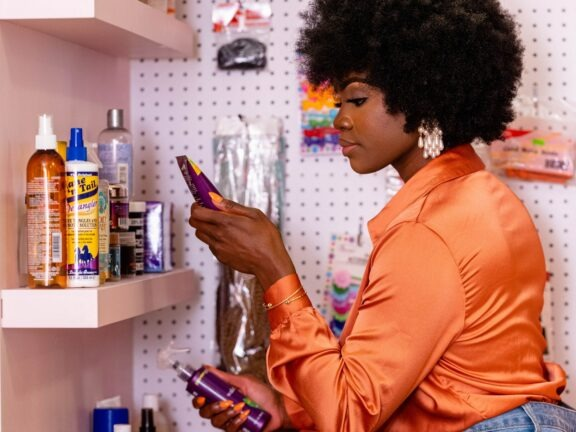 A new pop-up Black hair museum is creating a nostalgic experience to celebrate the diversity and evolution of Black hair throughout the decades.
The 15 installations will walk ticket holders through the eras of Black hair, where they can pose for photo ops throughout the interactive space. The Black Hair Experience is meant to celebrate how Black hair care and styling has changed over time, says founder Elizabeth Austin-Davis.
"We wanted to create a visual celebration of the experiences that tie us together regardless of how you wear your hair. Our goal was to create something that promoted self-love and celebrated the beauty of Black hair," she says.
The pop-up museum at National Harbor opened earlier this month in a space decked out with salon chairs, a hair roller pit, doorways covered with curtained hair beads, and endless beauty supply hair products. The space celebrates Black beauty and culture by encouraging visitors to pose and take photos, say museum founders Alisha Brooks and Elizabeth Austin-Davis. They partnered with the brand Wakati Hair to curate the space.
The founders decided to combine their passions for graphic design and photography to curate the experience. Austin-Davis travels the country capturing photos of Black women, whether it's for a specific project or to capture their beauty and union on their wedding day. Brooks owns a merchandise company that features products with sayings from Black women. One t-shirt design says, "My hair is poppin" and another says "Thou shall not touch my hair."
"Initially, Elizabeth shared her desire to create a photography passion project around Black women and their hair. From there, I proposed curating an interactive experience," says Brooks. "The fusion of these two ideas resulted in the creation of The Black Hair Experience."
The founders designed and installed nearly every part of the museum themselves.
"We had never done something like this. We made it up as we went along," says Austin-Davis, 33. "Our biggest thing was understanding the integrity of the structures [and] the aesthetic being done to a level that we would be proud of."
In the 20,000 sq. ft. exhibit, guests can pose with a handcrafted swing made of two braids, hundreds of Black magazines that celebrate Black hair and beauty, pretend to search high and low through a beauty supply store, and film clips with friends that remind them of the childhood hair mishaps.
"We put the hot combs down, but we can never forget the experience. Tell us about #TheBlackHairExperience in your home. Did you have a fried forehead or a fried ear?" says one Black Hair Experience post on Instagram. "If you missed the hot comb era, you can crank up your imagination for this photo op."
The space is for all generations and allows visitors to walk through spaces that show how Black hair care and styling has changed over time.
"It was really important for us to create installations that tapped into shared nostalgic moments and create spaces that foster self-love and reinforce the message that your hair, no matter how you choose to wear it, is beautiful," says Brooks.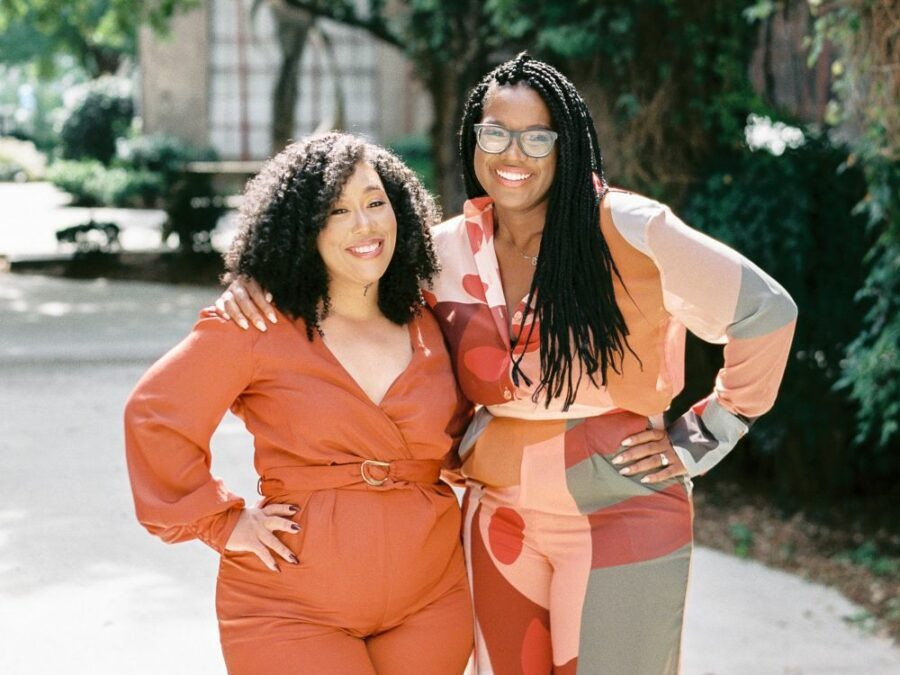 The founders have had their own personal experiences with self-love and finding beauty in their hair texture, they tell DCist.
"The journey of loving my hair has been a journey of highs and lows," says Brooks. Her mom permed her hair at a young age, and when she became an adult she decided to do a "big chop." She says the cut helped her feel more like herself. When having twins, her hair thinned and again she had to "re-establish and re-fall in love with my hair again," she says.
And Austin-Davis says her experience at a historically Black college shaped her.
"It wasn't until I went to an HBCU and really started to understand how to take care of my hair and made the personal decision to go natural that I started to love my texture the way that it grows," says Austin-Davis. "My goal was to feel confident about myself no matter how my hair looks."
Now the founders hope that the exhibit can have the same impact on Black supporters.
This Black Hair Experience at National Harbor is one of two locations. The first exhibit opened in Atlanta, Georgia in November 2020. After posting about the Atlanta site on social media, many supporters from the D.C. area commented on the social media post to ask the founders to open a second location in the area, they say.
Earlier this month, that ask was fulfilled.
Patrons can not only walk through the exhibits, but also buy hair care and fashion products at the counter. Some patrons may look forward to spending some extra cash, because while Black people frequently shop at beauty stores, there's a lack of Black-owned beauty supply stores.
Brooks says that Black-owned beauty supply stores struggle to thrive because they don't have connections with manufacturers.
"When you're not the one creating those small products like rubber bands, bobby pins, or a package of hair, and those things are owned by non-Black businesses and not even U.S.-based businesses, [those businesses] are the gatekeepers because they're the ones selling the product at a lower price point," says Brooks.
The founders say that the exhibit welcomes everyone.
"We welcome every race into the space. We don't exclude anyone from coming, learning, and exploring because I think that's a part of the journey of normalizing our hair and our experience so that we don't have these issues in the workplace," says Brooks.
In the past two weeks, there have been over 1,600 visitors, she adds.
While Black hair has been publicly celebrated more often in recent years, American history is rife with instances of discrimination against Black people — and particularly Black women and girls — for their hair. The ideals about hair date back to slavery when enslaved people with coarse, natural Black hair were deemed offensive and unpresentable by slave owners.
And controversy about Black hair continues today. In 2017, one charter school near Boston issued detentions to a 15-year-old student for wearing hair extensions and banned hair extensions, deeming them "distracting." The NAACP filed a complaint against the school for discriminating against students of color. In 2018, a 16-year-old mixed-race wrestler in New Jersey couldn't compete in a match unless he cut his dreadlocks. But some states are banning hair discrimination by signing on to the Create a Respectful and Open Workplace for Natural Hair Act (CROWN Act), a law that declares hair discrimination to be illegal.
"We need to send the message that our hair is beautiful the way it is, regardless of how we choose to wear it," says Brooks.
The space is open Thursday through Sunday until November. Patrons can reserve a specific time slot online, and in between each time slot, the space will be cleaned for COVID-19 safety. General admission tickets cost $32 and VIP tickets, which include a swag bag, are $52. Temperature checks, masks, and social distancing are required.
This story is from DCist.com, the local news website of WAMU.