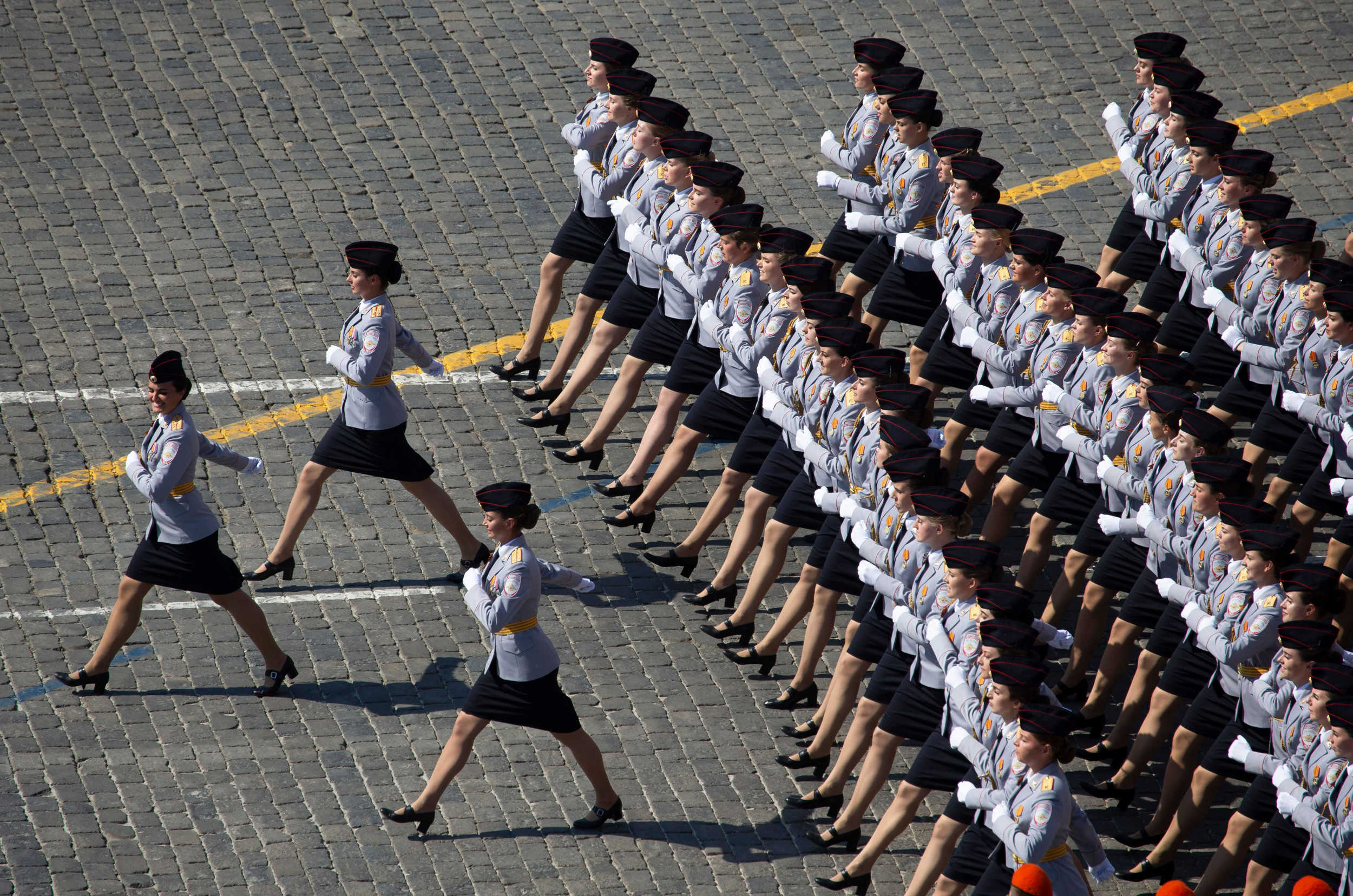 Russia Holds Beauty Contest for Female Soldiers During Ukraine War
Russian President Vladimir Putin's army held a military beauty contest this week despite the ongoing conflict in Ukraine.
The contest, named Makeup Under Camouflage, was done in celebration of International Women's day, according to a Euronews report.
The event saw women soldiers compete in military tests and exercises as well as show off their creative, culinary and intellectual gifts.
The event takes place annually, and this year it was held in the Yaroslavl region, three hours northeast of Moscow. It went ahead despite Russia being involved in a developing conflict with its neighbor Ukraine.
A military magazine, Red Star, said about 40 women took part in the competition, according to a Mirror report. All of the participants were from Russia's strategic missile forces.
One of the challenges included in the competition was the application of combat makeup. There were other non-combative activities like first aid skills, dancing and general knowledge as well.
Mock War Scenario
There were also challenges involving a mock war scenario. Female soldiers had to overcome a fire-assault zone with radiation, chemical and biological threats all while wearing gas masks and special protection suits.
In addition to this, participants were ordered to show their proficiency at assembling and disassembling assault rifles, shooting guns and throwing grenades.
Tensions between Russia and Ukraine have remained high as the conflict reaches its 15th day.
However, there have been reports that Putin would be open to meeting with Ukrainian President Volodymyr Zelensky to discuss ending the conflict.
"No one is excluding the possibility of a meeting between Putin and Zelensky," Kremlin spokesman Dmitry Peskov said on social media on Friday.
"As the Kremlin has announced, it is conceptually possible."
Zelensky indicated earlier this week he is also open to a compromise in order to end the conflict.
"This is the only way we can get out of this situation, we can't talk about the details yet," Zelensky told German newspaper Bild.
"We haven't had direct contact between the presidents yet. Only after the direct talks between the two presidents can we end this war."
Zelensky has continued to criticize the actions of the Russian military and accused them of committing war crimes during the invasion.
Referring to an airstrike that struck a hospital in Mariupol from his office in Kyiv, he called the attack evil.
"Did someone in the maternity hospital abuse Russian-speakers? What was that? Was it the 'denazification' of the hospital. It is beyond atrocities already. Everything that the invaders are doing to Mariupol is beyond atrocities already," Zelensky said.
"Today, we must be united in condemning this war crime of Russia, which reflects all the evil that the invaders brought to our land."
Follow our live blog for updates on the Russia-Ukraine conflict.