Leiomy Maldonado and Junior Mintt on Their Lives in Beauty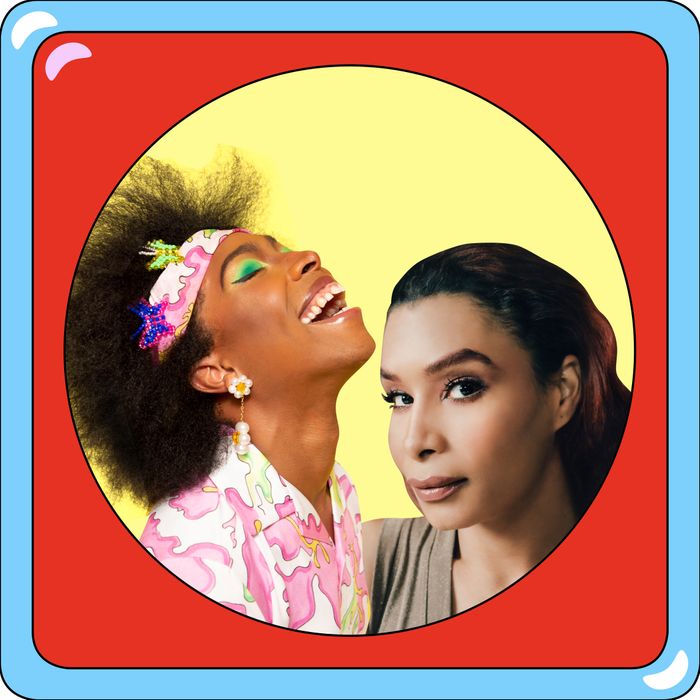 Left: Junior Mintt. Right: Leiomy Maldonado.
Photo-Illustration: by The Cut; Photo of Maldonado: Quil Lemons; Photo of Mintt: Courtesy of the Subject
Leiomy Maldonado and Junior Mintt are part of the beauty industry, but they are not of it — they are two Black trans women who have helped to shape it. "I've learned that in the beauty industry, a lot more people are focused on the industry and not the beauty," Junior Mintt tells me over Zoom when the three of us talk. "And the thing about beauty is that it involves humanity. It involves people seeing us as full-fledged individuals."
Maldonado has made a name for herself as a global Afro–Puerto Rican vogue dancer, choreographer, and artist — and she's far from done. She was exposed to the world of voguing at a young age, inspired by the chef she saw twirling at the Kips Bay Boys & Girls Club in New York City. She is the wonder woman of the ballroom, mother of the House of Amazon, a judge on the HBO Max voguing reality show Legendary and a choreographer on the hit drama Pose. In March, Maldonado became the lead model for the Black Opal's latest campaign; the beauty brand became Black-owned when it was acquired in 2019. But at the end of the day, Maldonado is a girl from the Bronx who has never knocked her affinity for the simplicity of a slicked-back bun. She sips white wine and her Chihuahua, Noodle, sits in her lap as a guest for our entire conversation.
Junior Mintt is a Brooklyn-based drag artist and activist. For the past two years, she has designed and hosted the monthly drag celebration and performance In Living Color. I was introduced to her through a friend on the drag scene and discovered her makeup line, Mintty Makeup, a brand that positions itself as "infused with kindness and empathy, blended from a bold Black/Trans/Queer point of view." Mintty was a long time in the making. "I didn't think it was possible a year and a half ago," Junior Mintt says, "and then the pandemic hit, and I realized I have zero things to lose and everything to gain. And as soon as we started to come out with it, I saw every single spectrum of people loving a makeup brand that is meant to empower and uplift you, that is meant to make you find your own beauty in this palette and not have your beauty defined for you." She sits in front of the camera with a frizzed-out Afro that rests like a halo.
This is the first time Maldonado and Junior Mintt have met. We greet one another warmly, ready to talk about beauty and their shared and differing experiences as Black trans women.
Darian Symoné Harvin: As we all know, this conversation really starts with the heart — that's my big thing with beauty. So I want to first ask, did you both imagine you would make it to where you are?
Leiomy Maldonado: As far as for me, I never thought I'd be celebrated the way I am now. I would have never thought I would even be considered to be in the spaces I've been able to [be in]. Coming from the ballroom scene, we got accustomed to only receiving flowers from our own people. And for me as a dancer, I would have never thought that I would have gotten a beauty campaign. A lot of times, in our minds, being a woman is about being soft and being beautiful and being seen, not heard. As an athletic person and someone who's been completely outgoing all her life, that's something I struggled with. I never thought I would get a modeling gig or even be considered beautiful because of my athleticism. That's who I am; it's my aesthetic. And for a very long time, even within transitioning, I've had to battle things with body images and learn to love my body type. I think that's something that keeps me humble. When I do get these opportunities and when I do get these campaigns, it's something that hits me true to the heart.
Darian: Humbling — that is such an empathetic way to describe that journey. Women are told they are meant to be soft, but as you said, you are an athletic woman. There is a layeredness to it all. What about you, Junior Mintt?
Junior Mintt: I never in a million years expected to be sitting where I'm at, with people who appreciate me for truly being who I am, because I grew up a little poor Black trans girl in Camden, New Jersey — highest murder rate per capita [in the country]. It was always about survival. It wasn't about just getting to the next day. And mind you, my voice was always this way, [and] I had never had any body hair.
[Junior Mintt has a gentle voice, but she is not quiet. In her voice, you can hear exactly how she feels.]
I was that kid who everybody confused for a woman on the phone. Everybody would be like, "Oh, hey, Dalma," talking to my mom, thinking it was her, and it was actually me. All the things that I was so confused about, flustered about, and I didn't like about myself were all the things that were true and authentic about me. I've been unlearning all of my childhood mechanisms to see the beauty that all of my friends and family have reminded me about. They saw all of the success that I could accomplish before I ever saw it in myself.
And to have my own makeup line is something that brings me so much joy because it's all about getting to help other people make their dreams come true. This roof is my dream. Being able to have my head in a bed where I'm not nervous that the cops are going to come and knock on my door, the landlord's not going to come and say something — it feels so amazing. And it's unlearning all those things from my childhood that helped me to become resilient but also still hold me back in a way.
Darian: You both stand in the truth of who you are. This is a bit of a flowery question, but I want to ask it: What do you feel like your purpose is on this planet? And how do you feel like you're really living that out?
Leiomy: It took a while for me to understand what my purpose in life was because, growing up, I didn't know I was going to make it far in life. I knew that I was trans, but I didn't have anyone around me that made me think I would have a successful life. I struggled, and I honestly never knew where my life would take me. But through ballroom and through dancing, I have realized that my purpose in life is to inspire people. When I first started getting known in my career, I used to get upset when people were so into the artistry and all about my videos but they didn't really want to get to know me as a person. It took me traveling overseas [to understand] that I had a connection with people, and it was because of my journey; it was because of the strength and the power that I exude while I'm on the floor.
I realize that my purpose is to make people happy and inspire people and to show people that we belong here, that everyone is capable of doing things you wouldn't even imagine, and that everything you want in life is reachable.
Another thing is that I like to show people that you should never be your past. You should never be your struggles. A lot of humans, you know, we hold on to our struggle. We hold on to the pain and all of these things that have made us who we are instead of embracing those things.
Junior Mintt: When you said "connection," it just struck such a strong chord in me because that is what I've realized my purpose in this whole world is — to help people connect, whether it be to me, to themselves, to God, to their community, to anything. And for me, because that's whenever I'm on a stage, the one thing I'm trying to connect so deeply to is myself. I want to get to the place of being my unbridled self on this stage with these lights.
Darian: What are your personal definitions of beauty?
Leiomy: My personal definition of beauty is being able to embrace anyone, no matter their shape, size, or color. True beauty is genuine. It's something that isn't forced. It's something that just comes off of you. It's energy, it's an aura. A lot of people think of beauty as in looks, but that's when you're putting people in boxes, because everyone is beautiful. It is about the layers of beauty.
Junior Mintt: I think beauty is the moment where you let the person who you get to spend 24/7 hours with shine outwardly. There's only one you. You walk in your shoes every day. You live the life that you live. I know what it's like to walk around as a Black trans woman in Brooklyn. I know every day what that is like, and that informs who I am — the beauty I express, the way I decorate my body, the way I decorate my hair, all of it. You can always tell genuine beauty from someone who is trying to manufacture it because, just like you said, it's an energy, and it comes off. It's one of the most beautiful things when people are just existing and just letting it exude.
Darian: This quote from Laverne Cox has always stuck with me, and it's from the Netflix documentary she executive-produced, Disclosure, about Hollywood's portrayal of transgender people and its impact on pop culture. She says, "I armor myself, and I use makeup as a way to do that." Does either of you relate to that statement?
Leiomy: I do enjoy my glam, but I had to armor myself through dancing. I figured out all my weaknesses and how to embrace those weaknesses instead of hiding them. I'm a Bronx girl — lip balm, hair slicked in a bun every day. I feel like I'm more stuck in the '90s beauty, and back then the girl did not wear a lot of makeup.
Junior Mintt: The first time I got to sit and actually talk to a trans person was in the dressing room of a drag bar, and we sat down and talked about our emotions and what we were going through in the process. And it was all those conversations in dressing rooms that helped me come to terms with my transness and realize that, yes, I can fully be a trans woman without ever having to medically transition, without shaving an armpit, without doing anything.
I've learned that in the beauty industry, a lot more people are focused on the industry and not the beauty. And the thing about beauty is that it involves humanity. It involves people seeing us as a full-fledged individual. I'm here to uplift my community and my support system. And that's what my whole makeup line is about. It's about making someone realize their value through this and letting them define their own value through it.
Darian: Yes. And I think that what you just described around the connection of having a story and being able to express it through makeup is something that's rare because ultimately what you're saying is "I have my feet on the ground. I'm here with my community. I know, see, and understand what we yearn for and what we want. And I can create a product that reflects that." The product becomes the by-product.
Junior Mintt: And because of that life, you can't fake it. When I have to book a beauty campaign, I'm not about to reach out to a bunch of random people. I'm a big "reach out to my friends who are Black, brown, trans, queer, working mother, single mother" person. I'm reaching out to my community of people. And they're honestly [who] people need to see.
Darian: What are your beauty obsessions right now?
Junior Mintt: What I'm really into right now is Afrofuturistic hair. I've been loving doing so many different knots and braids in different styles. I love rocking my natural hair — it's what I use in drag. And it makes me so happy to show the versatility of my hair and the beauty of it. But for my drag makeup, I will say I have been growing into colored eyeliner. Colored eyeliner has been hitting because I usually do a simple smoky eye, but when you start adding in colored liner on top of it, it's like, Oh, I didn't even have to do that much. That's what I've been gooped and gagged over.
Leiomy: It's summertime, so it's very hot out. I try not to do too much to my hair because if I do my hair straight, it'll pop up quickly. Or if I have my curls, it'll be too hot sometimes. I do a quick slick bun. Right now, I love lip balm, especially after having to wear masks all the time; your face is covered all the time. One of my favorite lip balms right now is definitely Black Opal Honey Dew Me Lip Oil. It's a really light color, and I love the consistency of it. I have oily skin, and I like to use their oil-absorbing pressed powder. You don't even feel it on.
Darian: How do you both take care of yourselves? How do you continue to prioritize yourselves and your well-being in a world that often reminds you that you have to fight for your safety and humanity?
Junior Mintt: One of the few gifts I got from quarantine was sitting down and figuring out what it is I actually want to do with my time because all I was doing was giving it away. And now it's so nice to be able to turn my phone off and actually take time away. I love going to Governors Island and sitting out by myself, sunbathing, listening to the water. I love to go and get an hour massage with my phone off and then go get a matcha latte and mind my business the rest of the day.
Leiomy: I'm a big homebody. I stay home a lot. I have everything I need. I have my video games. No, seriously, it's there on the screen.
Junior Mintt: Come through with the projector! [Laughs.] I know that's how you're really a gamer, but you got the projection screen that's larger than the TV.
Leiomy: I'm that type of girl. I'm not big on having the high-end stuff and having the most updated bag. I buy to invest in the things that make me happy.
Darian: What is your message to the beauty industry?
Leiomy: I feel like the beauty industry needs to stop being inspired by our community and using our community's creativity. Instead, they should be looking out for those people and start giving opportunities to the people that deserve it. When they steal ideas, they're cheating their own brands from experiencing the real magic.
Darian: Yes, that's it.
Leiomy: They sit there, they see something, they're inspired by it and then they replicate it. But it's not the real deal. You're not getting it. You're missing some magic dust in that one, you know, bap bap.
Junior Mintt: I fully agree. I expect to see my community reflected not only in the images of what I'm seeing but also in the people who were conceptualizing all of this.
Leiomy: Thank you.
Junior Mintt: I want to see money put into pockets. I want to see money put into the communities. I want to see community centers built. I want to see y'all fund an education program [and] help put money into beauty schools, okay? Like there are so many ways of enfranchising our communities that [the industry] avoids.