Designers Team Up At Milan Fashion Week Spring 2022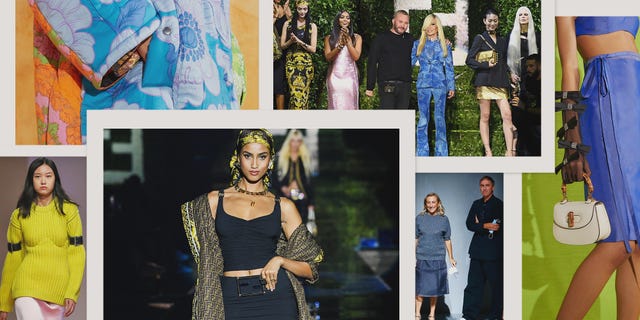 Courtesy of the designers; Prada: Emmanuel Wong
Style Points is a weekly column about how fashion intersects with the wider world.
Once, a collaboration was the ultimate in cred—high married to low, luxe mingled with quotidian. But after this just-concluded Milan Fashion Week, that kind of move looks so, well, 2020. Now, designers who once existed in their own never-intersecting, competing lanes are merging, with unexpected results. Perhaps the blueprint for this was the Gucci/Balenciaga linkup we saw at the former's Aria collection in April, whose "hacked" pieces melded Alessandro Michele's embellished maximalism with Demna Gvasalia's Matrix-ready edge.
"Fendace," AKA Fendi + Versace, was the portmanteau that became the talk of this Milan Fashion Week. But as the show notes for the collection were quick to declare upfront, "This is not a collaboration." Instead, it was a meeting of the minds, as Fendi's Kim Jones and Versace's Donatella Versace whipped up a potent brew of the house's iconographies. "It's a first in the history of fashion," Versace said, "two designers having a true creative dialogue that stems from respect and friendship." Part one, Versace by Fendi, included the former's safety pins bisecting the latter's double-F logos, while part two flipped it and reversed it, superimposing Medusa prints onto the familiar brown logo pattern. Two great tastes that taste great together!
Another fashion power couple, Miuccia Prada and Raf Simons, continued their fruitful partnership, forged in early 2020 when Simons was announced as co-creative director of the house. Their first IRL show together took place, appropriately enough, on a twofold runway, with models walking simultaneously in Milan and Shanghai. The theme: "seduction through reduction," twinning Prada's knack for the unconventionally sexy with Simons' masterful minimalism. They wanted to explore, explained the show notes, the "antecedents of clothing…the memory of a train, the bones of a corset, the curve of a brassiere." So the trains came thin and single-panel, the way a Brutalist architect might envision them, and corset strings hung as loosely as shoelaces, reminders of an antediluvian beauty standard whose shadow still looms over us today. Mrs. Prada's sense of humor peeked through in an oversized sweater that held the faint outline of a first-wave brassiere, with belts cinching the not-notably-erogenous zone that is the upper arms. Leave it to Prada to make clothes that are both sexy and tongue-in-cheek.
Michele, who used this past fall's GucciFest as a way to support up-and-coming designers like Charles de Vilmorin and Gareth Wrighton, had a trick up his embroidered velvet sleeve this season. No, he didn't mount a surprise show, but he did unveil the Gucci Vault, an online concept store featuring looks from up-and-coming brands like upcycling Swede sensations Rave Review and Solange-approved New York designer Shanel Campbell, along with vintage Gucci pieces that Michele describes as "mutant relics." Teaming up with those on the come-up and letting them into the Gucci world felt like a natural move for a designer who's always embraced new talent. ("I said to myself: 'Why can't a fashion house with a creative director also have a space for expressive, aesthetic, and social contaminations?,' Michele explained in a press release.)
These kinds of "contaminations" between design talents with different perspectives make sense not just from the customer's side of things, but the designers', too. A straightforward logo might feel rote these days, and we're all mired in collaboration fatigue, but the postmodernist, and limited-edition, appeal of two layered visions is the ultimate fashion in-joke for the hypebeast who has everything. Plus, the preciousness around brand sanctity has broken down, and everything is now fair game. As for designers, they're no longer sitting alone in their ateliers pursuing a singular vision. It's even possible that the newfound solidarity found through open-source sustainability efforts and group pledges for industry change has increasingly made them collaborators, not competitors. And we're all the chicer for it.
This content is created and maintained by a third party, and imported onto this page to help users provide their email addresses. You may be able to find more information about this and similar content at piano.io