All of The Sports Illustrated Swimsuit Issue Cover Models From 1964 to 2022
The 2022 Sports Illustrated Swimsuit Issue is coming to stands on Friday, May 19, two months earlier than fans might have hoped. Even better, the issue will also be available online from Monday, May 16 at swimsuit.si.com.
This year, Kim Kardashian, singer Ciara, models Maye Musk and Yumi Nu are set to dawn the prestigious cover, which since 1964 has featured some of the world's most famous supermodels and celebrities on the cover including Tyra Banks, Megan Thee Stallion, Kate Upton, Irina Shayk, and more.
The 2022 issue is set to go down in history as Maye Musk is going to be the oldest cover star in the magazine's history at 74 years old.
At first, the Swimsuit issue started as a photo spread of women in bathing suits, but over the years it has become a fashion issue, mainly advertising beachwear. The first Swimsuit Issue cover model was Babette March in January 1964.
She was followed by Sue Peterson in January 1965 and Sunny Bippus in 1966.
Model and fashion designer Cheryl Tiegs was the first repeat cover model, appearing in 1970 and again in 1975.
Swedish twins Yvette Sylvander and Yvonne Sylvander made history as the first multi-subject cover models and the first twins to grace the cover.
Model and actress Christie Brinkley was the cover model three years in a row from 1979 to 1981 and Kathy Ireland in February 1989 was on the cover of the bestselling swimsuit issue to date.
In January 1996, Tyra Banks alongside Valeria Mazza became the first African-American cover model to appear on the Sports Illustrated Swimsuit Issue. Banks then appeared on the cover one year later, becoming the first African-American solo cover model. She graced the cover again in 2019.
In 2007, Beyoncé appeared on the cover, becoming the first non-model and non-athlete to do so.
Elle Macpherson is the model who has appeared on the most issues of Sports Illustrated, including the Swimsuit Issue, featuring a record five times, the last time in 2006.
All Of The Sports Illustrated Swimsuit Issue Cover Models From 1964 to 2022
1960s
1964: Babette March
1965: Sue Peterson
1966: Sunny Bippus
1967: Marilyn Tindall
1968: Turia Mau
1969: Jamee Becker
1970s
1970: Cheryl Tiegs
1971: Tannia Rubiano
1972: Sheila Roscoe
1973: Dayle Haddon
1974: Ann Simonton
1975: Cheryl Tiegs
1976: Yvette Sylvander, Yvonne Sylvander
1977: Lena Kansbod
1978: Maria Joao
1979: Christie Brinkley
1980s
1980: Christie Brinkley
1981: Christie Brinkley
1982: Carol Alt
1983: Cheryl Tiegs
1984: Paulina Porizkova
1985: Paulina Porizkova
1986: Elle Macpherson
1987: Elle Macpherson
1988: Elle Macpherson
1989: Kathy Ireland
1990s
1990: Judit Mascó
1991: Ashley (Richardson) Montana
1992: Kathy Ireland
1993: Vendela Kirsebom
1994: Kathy Ireland; Elle Macpherson, Rachel Hunter
1995: Daniela Peštová
1996: Valeria Mazza, Tyra Banks
1997: Tyra Banks
1998: Heidi Klum
1999: Rebecca Romijn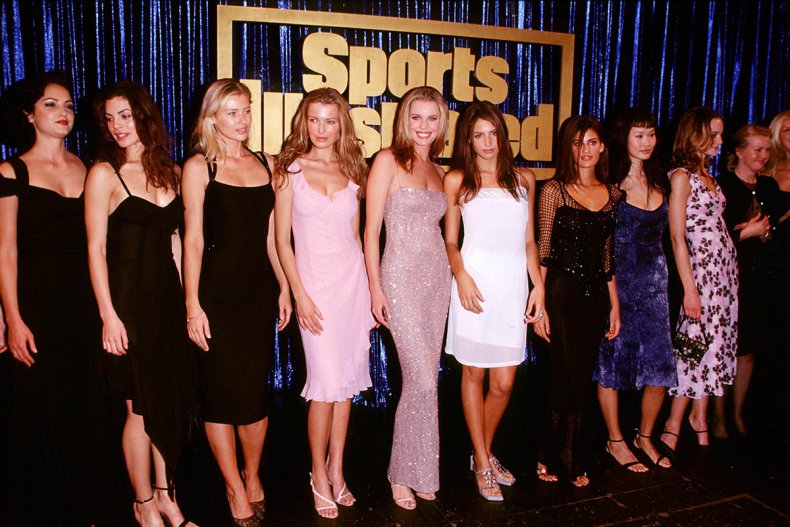 2000s
2000: Daniela Peštová
2001: Elsa Benítez
2002: Yamila Diaz-Rahi
2003: Petra Němcová
2004: Veronika Vařeková; inset Anna Kournikova
2005: Carolyn Murphy; inset Jessica White, Marisa Miller, Yamila Diaz-Rahi
2006: Veronika Vařeková ; Elle Macpherson; Rebecca Romijn; Rachel Hunter; Daniela Peštová; Elsa Benítez; Carolyn Murphy; Yamila Diaz-Rahi
2007: Beyoncé Knowles
2008: Marisa Miller
2009: Bar Refaeli
2010s
2010: Brooklyn Decker
2011: Irina Shayk; inset Kate Upton
2012: Kate Upton
2013: Kate Upton
2014: Nina Agdal; Lily Aldridge; Chrissy Teigen
2015: Hannah Davis
2016: Ronda Rousey; Ashley Graham; Hailey Clauson
2017: Kate Upton
2018: Danielle Herrington
2019: Tyra Banks; Camille Kostek; Alex Morgan
2020s
2020: Kate Bock; Jasmine Sanders; Olivia Culpo
2021: Megan Thee Stallion; Naomi Osaka; Leyna Bloom
2022: Kim Kardashian; Maye Musk; Ciara; Yumi Nu